June 14, 2021
Ogallala, NE to Julesburg, CO
37.7 miles/780 ft
95º/15-19 mph SSW
https://ridewithgps.com/trips/69271247
I have been looking forward to getting to Julesburg since the start of the trip. This is one of the few places that any drama connected with the Pony Express occurred: Jules Beni's shooting of Pony Express superintendent Jack Slade.
You may have noticed that while I have written about the emigrants, I have not written much about the Pony Express. That's because there isn't much to write about. That is, a lot of books and articles have been written about the Pony Express, but they are mostly about how it came to be, how it helped bankrupt the largest freighting firm of the day (Russell, Majors & Waddell), and other peripheral ephemera, all of which you can find in any book about the Pony Express in one form or another, and which will eventually end up in mine in some form or another.
But as to the drama, as for connecting this station with that event, there is not a whole lot. Young horseback riders who knew their respective areas rode like hell for 50 or 70 miles from one home station to another, ate, drank, played cards, and slept until it was time to ride the other way again. At least one died (in Nevada). There were a couple of epically long rides due to hostilities and whatnot; but the longest ride, which Buffalo Bill attributes to himself in his autobiography, is entirely fictitious.
Point being, not a lot to write about as I pass these landmarks. Until Julesburg.
Now, I want to tell you about Julesburg, but I've had a long exhausting day, so I don't think I can do a proper job tonight. I am riding to Sidney, NE tomorrow and will spend two days there (sitting out the predicted 105º day), so I can write it up then. I know, I know, I hate teasers. But I hope to make the story worth the wait. 
As for today . . .
I got up pretty early, thanks in part to the guy ran his diesel truck for half an hour starting at 4:30 in front of my room. What is it with guys and big trucks and noise? I don't get it.
I passed on Country Pride for breakfast, eating at McDonalds instead. And I can tell you that no matter how hungry I may be, McD's hash browns still don't taste good. Salted cardboard is my closest description. 
Popped across the street to Casey's (c-store) to get some electrolyte drink for down the road (another hot one), and, well, while I was there, a couple of donuts, because . . . Donuts!
Ogallala has a Pony Express Station Marker: Sand Hill Station. Guess what that means? Yep. The gravel roads in the area were sandy and slow, though not as bad as back at O'Fallon's Bluffs.
The ride went smoothly out of town. Unfortunately, however, the wind had clocked a little further and was now SSW. In other words, against me. All day. The good news about that is while it slowed my pace and made me work harder, I think it cooled me enough to keep me from the full force of the heat. I'll take that trade-off on a 95º day.
At about 12 miles into the ride I had a decision to make: South of Brule, NE, the Pony Express Bikepacking Route goes straight; but the Pony Express Monuments and California Hill were off Hwy 30, which runs along the south edge of Brule, about two miles to the north. I decided to leave the route and turn north to Brule to see the sights. I think it was the right decision.
The town of Brule was not much more than closed shops, though it did have a very neatly appointed, if tiny, post office. Drivers on Hwy 30 west were again polite, as they were east of O'Fallon's Bluffs. The road did not have a very good shoulder, so I rode in the vehicle lane, and by and large drivers waited when passing was iffy and crossed the center divider to go around whenever they could. I passed one station marker (Diamond Springs), then came to a monument to California Hill.
I will do a separate entry for California Hill in the next couple of days. Short version: it's a hill the emigrants had to cross. Why is it important? I don't really remember, but I know from my reading that it was a big deal, so I hope to get you all up to speed on that soon.
From there I rode west a little longer, dropped off the bluffs to go through Big Springs, past the South Platte Pony Express Station marker (where a donkey across the road yelled at me until I left), and eventually into Julesburg.
One funny thing about Julesburg: the present location is the town's fourth. The first location (where Jules shot Slade) is south of the Platte River; raiding Lakota and Cheyenne burned it down in 1865. It was rebuilt a couple of miles away, but died when the railroad tracks were laid north of the Platte. The town moved to the railroad and was a tent city of the Hell-on-Wheels kind until the leading edge of railroad construction moved further west. The forth and current town sprang up at the intersection of the transcontinental railroad and the Denver branch of the Union Pacific Railroad.
Anyway, I rolled into town about 1pm, and I couldn't check in until 2. So I went to D&J Cafe and had lunch (killer pancakes and eggs), drank way too much coffee, then had peach pie a la mode to finish the meal off.
I swear I have never eaten so much in my life.
Getting off the bike to go into the diner, my shorts hung up on my saddle. I assumed they had sagged a little, had maybe been pushed down by my backpack. When I got to the Holiday Motel, where I was staying for the night, I found out that the seam had ripped out. These are the nicer Patagonias, with taped seams, and it seems the tape just gave up the ghost. Forty-five minutes on the phone with Patagonia to explain that, No, I can't mail them in to you right now and wait for a new pair, and we finally arranged to have them sent overnight. Missed the drop time, so that means Wednesday. Some more calls to figure out where I'll be Wednesday . . . Most of my afternoon, when I should be resting, eaten up by logistics.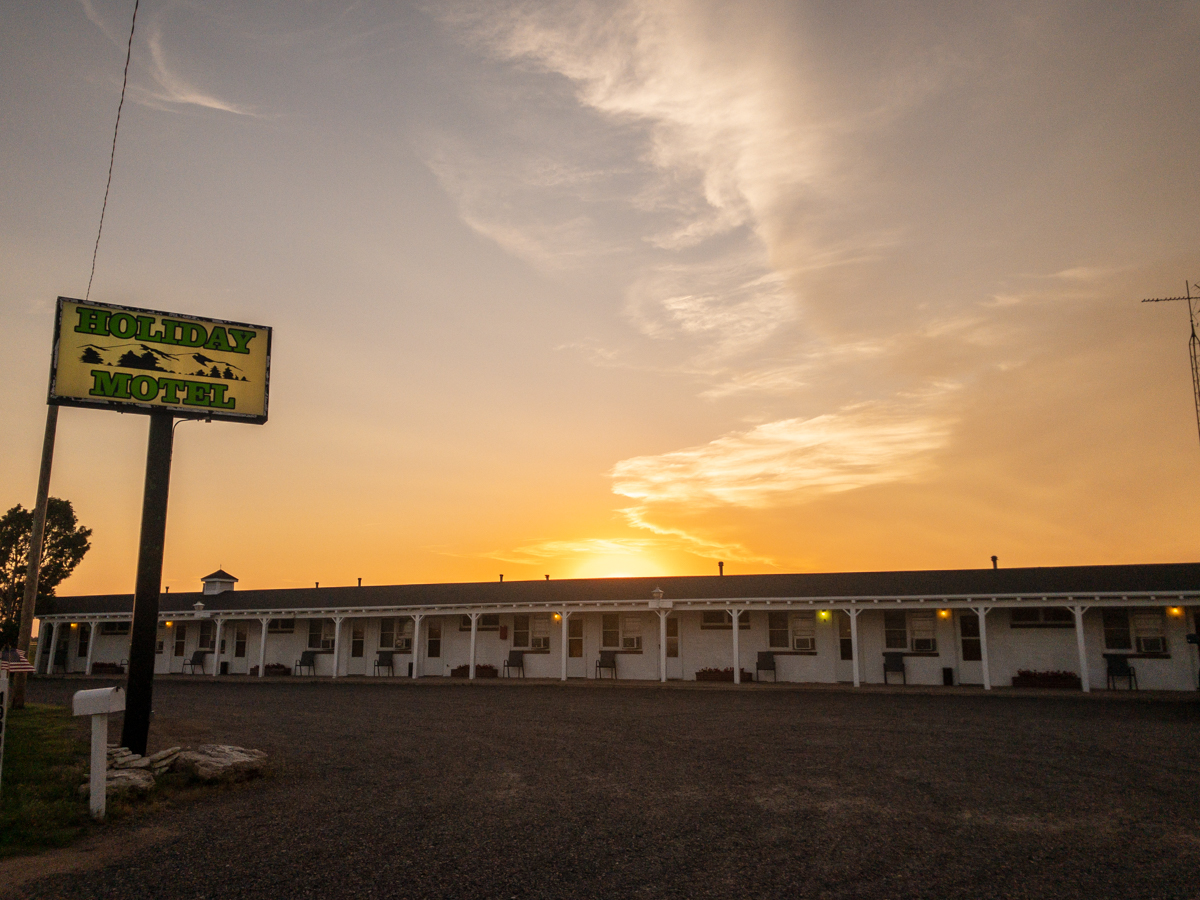 This motel, the Holiday Motel on the western edge of Julesburg, has been in one family for two generations. It's old school, but very clean, very neat. The owner/manager, Susan, asked about my itinerary for tomorrow and suggested I go see the local sites tonight and take a more direct route to beat the heat. Sounded good, so after getting done with all my phone calls, I jumped on my bike–without the trailer! – and rode all over. I ended up putting in another 10 miles looking at sites that are hardly worth looking at but which would have slowed my departure because I'm here and I would pass them tomorrow and would feel I needed to stop and take pictures, all while the sun and temperature climbed. 
Which is one reason I am not up to the full Julesburg story tonight. I need to wrap this up so I can pack. I hope to get out by 6 tomorrow to get to Sidney by 12 or so and beat the worst of the heat. I can't check in until 2, but I'm sure there'll be a place in town with pie to help me while away the time.