June 15, 2021
Julesburg, CO to Sidney, NE
56.4 miles; 1400 ft.
95º/winds SSW @20-30
Today the temperature was forecast to rise to 97º. I had a 55-mile ride to get from Julesburg to Sidney, and I did not want to spend the last 15 or 20 in the heat. So I rose at five-thirty and was off about twenty after six. Another guest was loading up his (loudly idling, large) truck. He watched as I put my bike helmet on and said, "It's going to be a hot one." I agreed, then set off.
South of town I rejoined the Pony Express Trail and passed by two of the former Julesburg town sites. Here's the thing about Julesburg: Jules Beni, the founder, placed the original town in a perfect spot. Here's why . . .
Picture a letter "Y." Now tilt it on its side to the left. The stem of the letter is the Platte River, from roughly North Platte, Nebraska until it empties into the Missouri River near Omaha. The left-hand arm of the letter, the one touching the ground, is the South Platte River: it arches like a crescent moon between Denver and the city of North Platte. The other arm, the one pointing up, is the North Platte River, which runs (for our purposes) between Casper, Wyoming and North Platte, Nebraska (where it merges with the South Platte River to form, simply, the Platte River for the rest of its run to the Missouri).
Emigrants in the mid-19th century followed the Platte River upstream along its southern bank. If they wanted to go to California or Oregon, at some point, they had to cross from the south side of the Platte River to follow the North Platte River up toward Casper, because the only way to get a wagon across the Rockies was through South Pass, Wyoming, which lies west of Casper.
If, however, it was 1858 or later and instead of being an emigrant looking for land you were an argonaut who wanted to go to Denver to mine for gold (the Pike's Peak gold rush), you would just keep to the southern bank of the (now-called) South Platte River. The same is true for mail coaches, stage coaches, freighting wagons . . . Everyone who travelled between the States and points west either stayed south of the South Platte River to go to Denver, or had to cross to get to the North Platte River to go to Casper, and from there through South Pass to Salt Lake City, California, or Oregon.
Jules founded Julesburg at the westernmost point it makes sense to cross the South Platte in order to follow the North Platte to Casper. In other words, everyone went through Julesburg. Well, not literally everyone. Some people crossed further east (near Brule, Nebraska) at the Lower California Crossing (remember California Hill? That was a piece of land between the South Platte River and the North Platte River by Brule, NE); and the Mormons emigrated along the north shore of the Platte River from, roughly, Omaha, but we'll discuss the Mormon emigration later.
Point being, Julesburg was perfectly located to catch as much traffic as possible. What kind of a town was Julesburg? Irene Paden gives a vivid description:
On the south fork of the Platte River, nearly opposite the mouth of Lodgepole Creek, stood, from the late fifties, a flea-bitten collection of shacks—unpainted, unwholesome, and thoroughly unlovely. It was called Julesburg, and its presiding genius, Jules Beni, was a hulking French-Canadian trader as ill-favored by nature as his chosen place of residence.

At first it was an isolated ranch and trading post, but it was not long before the stagecoaches (instead of fording the South Platte at the Lower California Crossing) continued up the left bank as far as 'Jules Ranch,' which was then logically known as the Upper California Crossing. The dirty little settlement looked like a wart on the bare face of Nature, but its importance was enhanced because the roads forked here and the stages and mail destined for the recently discovered gold diggings near Pikes Peak left the 'Old Trail' at this point and followed the south bank of the South Platte without the necessity of fording.

A stage station was established at the forks of the road, and Jules was appointed stationmaster. Because he knew his prairie and his Indians and seemed to make money for himself, it was thought he would do equally well for the company. This was a mistake. Jules, who was a rogue, a liar, and a horse thief, spent much of his time drinking and continued to make money for himself instead of for the stage company. . . ."

"I was saying that we were somewhat dashed to find [at the site of the original settlement] nothing but a cornfield with most of the corn washed out and a bridge, which had washed in, sitting irrelevantly in the middle of it. Nothing is left of the hard-boiled old town—not even a board or a crumbling wall. Spotted Tail [who sacked the town in 1864] did a thorough job, and the Platte Valley weather has taken care of any minor details omitted at the time."
Thus Julesburg.
As I said, I passed by this spot, then turned north into Ovid, and from then on followed, more or less, the Lodgepole Creek Ms. Paden identifies. This part of the route was known as "Jules Stretch," because Old Jules (as everyone seemed to call him) had laid out a track from his ranch to the North Platte to entice more traffic to come his way.
The stages and Pony Express used the latter route [the California Road or Overland Trail], here fording the south Platte (wide and rough during spring runoff) to a point just above Lodgepole Creek, then following that stream westward to a point three miles east of present Sidney, then crossing Lodgepole and heading north. This route was surveyed by Lieutenant Bryan of the topographical engineers in 1858 and was called 'Jules Stretch.'

The Oregon Trail: Rock Creek Station, Nebraska to Fort Laramie, Wyoming, p.10
That pretty much encompasses my ride today, except I continued west into Sidney, and will head north from here to meet the North Platte River at Bridgeport two days from now when I start out again.
In any case, after Ovid I had some climbs and descents, some gravel and some sand . . . Nothing too noteworthy, except some wide-open views of Nebraska Plains. Around Mile 20 I dropped into the town of Chappell, in the heart of the Lodgepole Valley. I stopped in the grocery store for some water (to top off my supply, just in case the day got long), and coffee (because I hadn't had any yet). No brewed coffee, so I had a Starbucks Frappuccino instead. The clerk rang it up and bagged it and by way of closing the transaction said, "It's going to be a hot one today."
As if I needed reminding.
From there, I turned west, passed Buffalo Creek Coffee, which I would much rather have gone to to get caffeine had I known it was there, hesitated, wondering if I had time to get a hot cup of joe, and decided no. Why? Because as people kept reminding me, it was going to be a hot one and I needed to skedaddle.
Then the sweetest thing happened. I passed the last building out of town and was pushed along for the next 37 miles by a howling tailwind. It was wonderful. I didn't realize how wonderful until later, when I arrived in Sidney, tried to ride against the wind on an uphill, and came to a dead stop. I was track-standing: the bike frozen in place with my feet still on the pedals. I had to drop into first to get moving again. That's a strong wind.
Before my impromptu track stand, in between Chappell and Sidney, I passed a couple of Pony Express Station sites. When I came to one, the Texas Station, I thought about passing it up because it was off the Pony Express Bikepacking route and would be a three-mile detour, and, you know . . . it was going to be a hot one. But with the wind howling behind me and the valley floor laid out nearly as flat as a carpet, I was making great time. I decided to risk it. Nasty cross-winds getting out to the monument and back, but then more tailwind to whisk me along as soon as I got back on the route.
Somewhere along in here I felt my arm getting wet, and realized the mouthpiece on my water bladder had fallen out. WhileI retraced my steps to look for the missing piece, I had a few minutes of near panic as I tried to figure out how I'd carry enough water and manage to drink it while riding—the bladder holds 2.5 liters, which is a good amount of water, and I had been pretty much draining it every day—until at last I found it in the weeds. Just a reminder, I suppose, of how tenuous all of my systems are. Everything is solid and working and holding up well, but it just wouldn't take all that much to throw a wrench in the works, so to speak.
Once in Sidney, I found my motel, but was 90 minutes early to check in. I went by the local diner, Grandma Jo's, for lunch and pie: closed until tomorrow. All other restaurant choices all seemed to feature generous amounts of meat in one form or another. I ended up at a Starbucks (just a Starbucks kind of day I guess) inside a Safeway and had one of their veggie wraps, then rolled back into town to—get this—"Brand New Items and Coffee Shop." That's the name of the place. One half is home decor and the other is a coffee shop. I sat in their air conditioned shop (because, you know . . . ) and drank coffee and something very refreshing with watermelon and lemon and ice.
When I got to the motel, which was only a block away ("Sidney Inn: The Peaceful Ambiance"), no one was at the counter. I rang the bell a couple of times, because the sign said to, but no one came. I mean, I could hear the bell dinging in the living space behind the counter, along with a  loud TV I could also hear. But still, no response.
I was starting to feel uncomfortable about my choice of hotel. It's painted black and gray, which is a little forbidding (and maybe foreboding). The courtyard was filled with heavy, deep gravel, so deep I couldn't ride in it. There were no cars, or as far as I could tell, other guests. And I had booked two nights here to sit out the hot weather.
On my way to the office I had passed a man doing tile work in one of the rooms. I thought about going to ask him if he knew where everyone was. First, though, I called the motel number. The phone two feet across the counter from me rang; someone picked it up, and I heard simultaneously a voice on the phone and the same voice walking toward me from the tile-work room.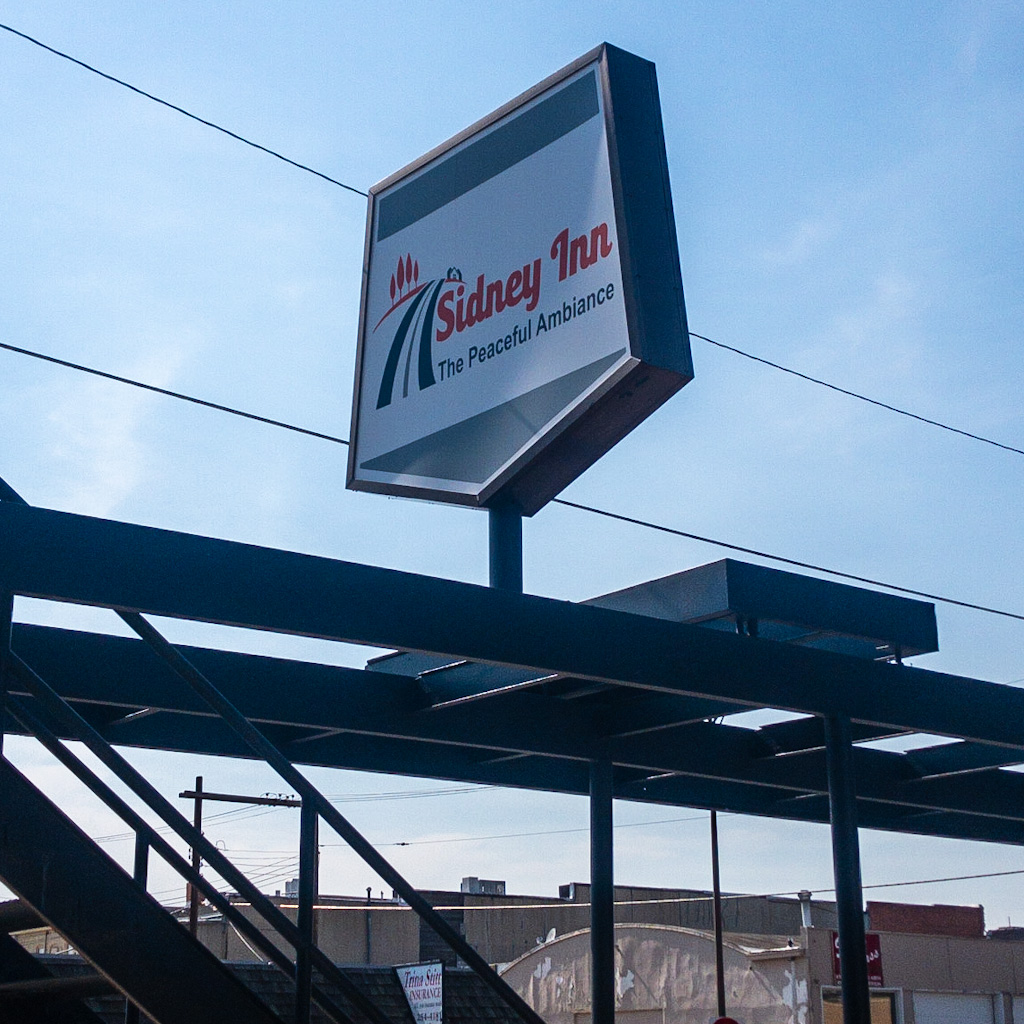 The tile worker turned out to be the owner, Vinod. He and his wife, Hansa, own the hotel. The person in the back who didn't come forward was Hard, their son who is in the Navy Reserve and who was working on their taxes. (Hard: isn't that a badass name for a man in the Navy?) Vinod checked me in, going over everything I had told Hansa over the phone the day before (Look, she put you down for the full rate. I'm going to give you the last minute rate. Save you about twenty dollars. Good thing I checked.) At one point he offered me a beer. I told him I really don't drink, so he disappeared and came back with a bottle of Gatorade instead. Anything you need, just call me, he said. The lobby is open 24 hours. Feel free to make coffee any time you want. I want you to be comfortable. Treat this place like your home, not a hotel.
This hotel is in old downtown Sidney. Like many such towns, all the new businesses are up by the interstate. The Sidney Inn has a 2020 city award for helping rejuvenate the old town. With so many shopfronts closed along the main drag, it's easy to see why the city would be grateful to a family who would take on a project like this. Clean rooms and friendly management, at a good price. What more could you want? (Well, if you're my son, Kazu, you would want room service, but that's just one of many reasons he had zero interest in joining me.)
And not only did my gamble with the management turn out well, the location is good, too. I've found enough restaurants and coffee within walking distance to make a two-night stay comfortable. In the meantime, Patagonia notified me it has sent my replacement shorts to Bridgeport, so they should be waiting there for me Thursday night. All I have to do is sit tight tomorrow and let the hottest day of this heat wave pass and hope that the northwesterly wind direction predictions for Thursday turn out to be wrong. Because even though the worst of the heat will be over, you know . . . it looks like it'll be a hot one.