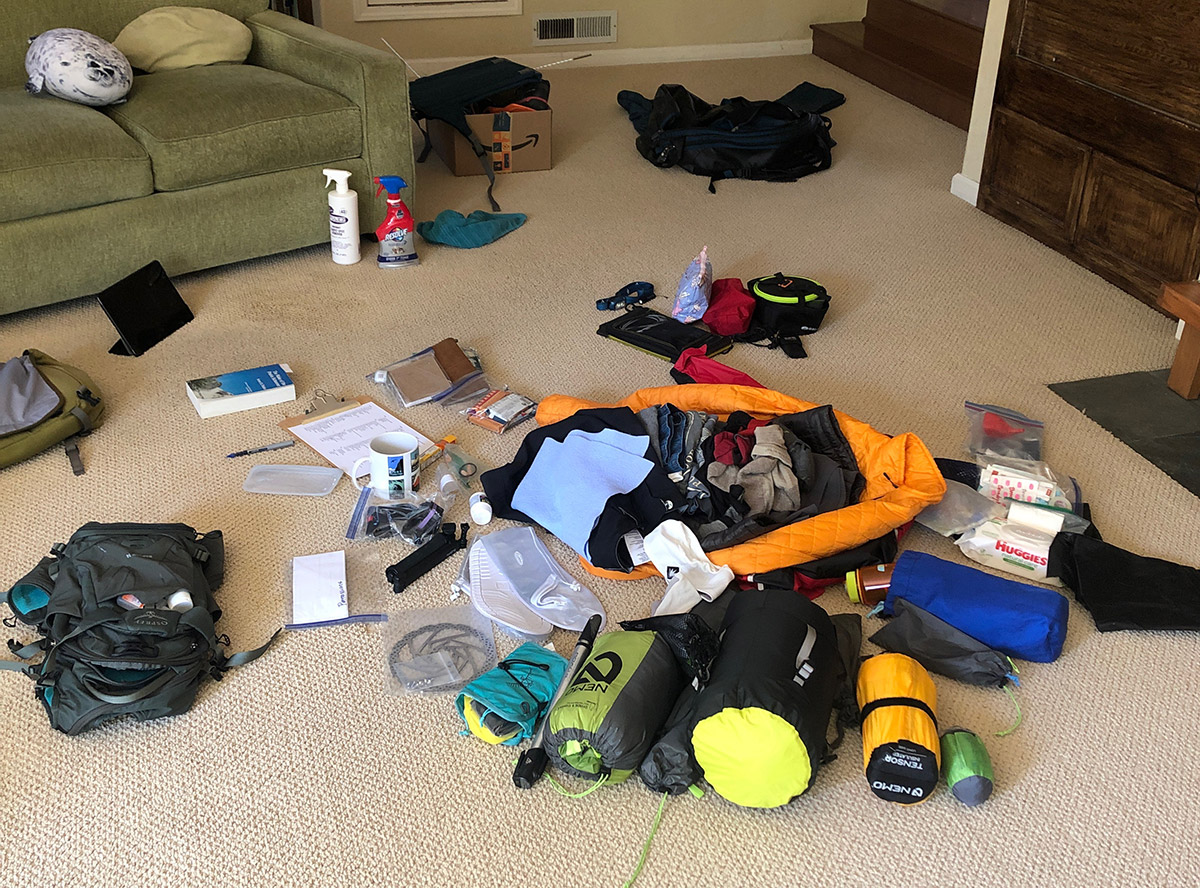 At the risk of exposing myself to public ridicule, below is my packing list for my ride from St. Joseph to Salt Lake City. I know: the list is absurdly long. And for what it's worth, it will be considerably shorter when I ride the rougher half of the route in the fall (Salt Lake to Sacramento).
What makes this particularly embarrassing is that while researching the Pony Express, I read quite a few books and articles about the emigration from the States to Oregon and California. One of the phenomena every diarist and subsequent writer comments on is the amount of superfluous equipment emigrants packed—stoves, anvils, grandfather clocks, plows, etc.—and how most of the items ended up littering the side of the road from Ft. Laramie west. Even in 2015, Rinker Buck, a modern-day wagoneer recreating the emigrant experience in a mule-drawn covered wagon, found he had packed too far more gear than he needed. (Rather than cast it off the side of the trail, however, he donated it to a thrift store.) So if nothing else, overpacking is a venerable tradition on the Oregon Trail (which is the same as the Pony Express trail east of South Pass).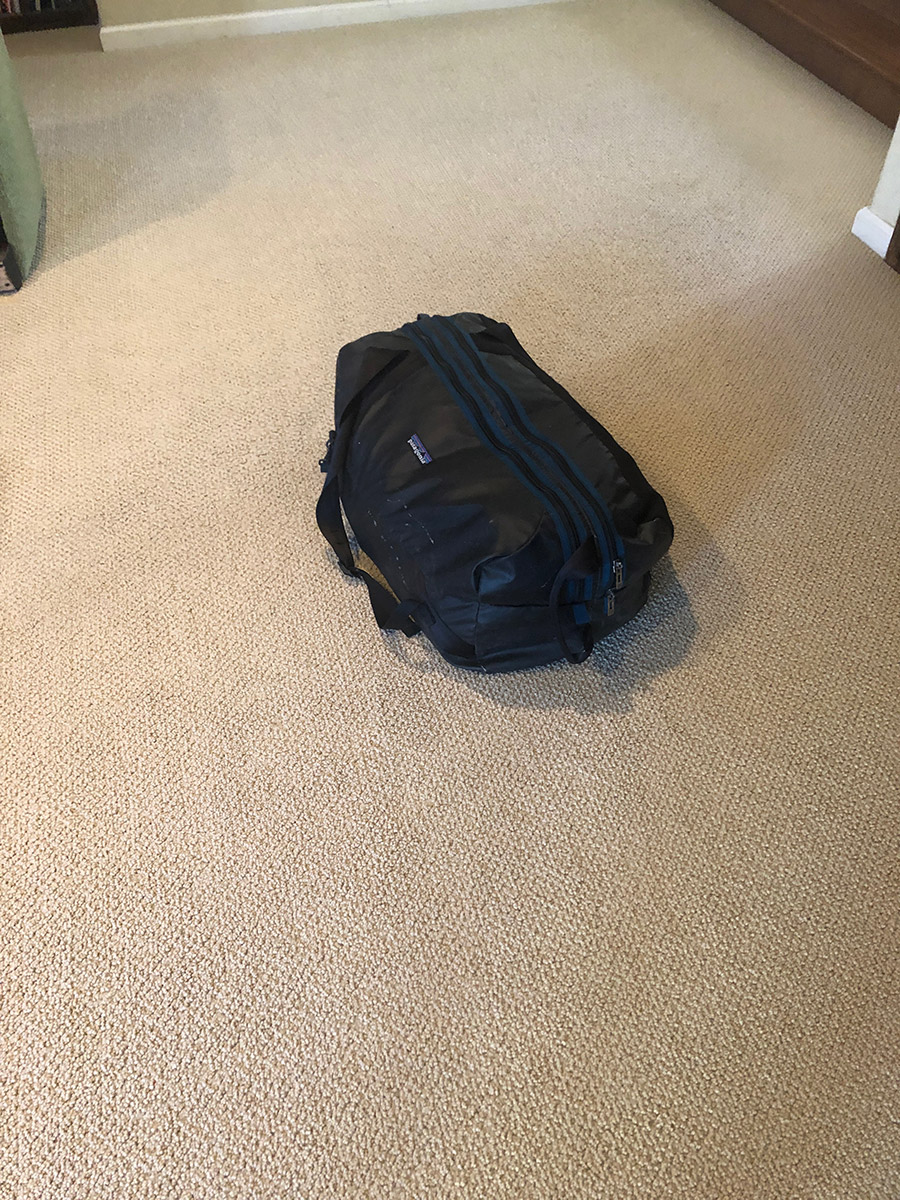 I'll be interested to see which items I would better have done without at the end of the trip. I did pare the list down some: the items in brackets are things I considered bringing, or took on my scouting trips, and have decided I do not need on this one. I have left them here (and on my private list) as a way of knowing I have considered the item the rejected it, and that it hasn't been omitted due to inattention.
In case the list is helpful to anyone else, here is a PDF version.
Kitchen

Cook Kit
X-Bowl
Cup/lid
Stove
Fuel bottle
Fuel
Funnel
Matches/Lighter
Wind Guard
Spork
Spatula
Coffee scoop (Tbsp)
Multi-Knife
Towel
Trash bag(s)
Detergent
Napkin
Sponge
Basin
Can opener
[Cutting board]
[Camp Stool]
[Coffee Press]
[Bean grinder]

Food

Breakfast [Oatmeal/Raisins/Sugar]
Lunch [Tortillas/PB/Nutella]
Dinner [Dehydrated]
Snacks [Larabar/ClifBar]
Coffee [Instant]
Loksak Bags
[Bear canister]

Electronics

iPhone 8
iPad/Keyboard
Radar
Mophie
Earbuds
iPhone 8+ (Navigation)
Spot X (Satellite GPS)
Solar Panel (Charged?)
Headlamp (Charged?)
Small flashlight
Charging Cords
Running lights-front/rear
Trailer taillight
GoPro/Batteries/Charger
GoPro Stick
[GoPro Harness]
[Headlight]
Sleep

Tent [Tent/poles/stakes]
Ground cover
Sleeping Pad (Inflatable)
Sleeping Bag
Pillow (Inflatable)
Parts

 

Trailer axle
Spare tube–bike
Spare tube–trailer
Patch kit
Tire boot(s)
Tire irons
Multi-tool
Inflater/cartridges
Pump
Valve stem tool
Hole-plug tool
Chain oil and rag
Spare chain links
Spare brake rotor
Spare shifter cable
Lock
Wrenches [8mm/17mm]
[Sealant]
[Spare tire]

Body

Deodorant
Sunscreen
Lip Balm
Hand cleaner
Soap/Shampoo
Razor (Spare blades)
Huggies
Visine
Hair tie(s)
Bidet [Bottle/soap/cloth]
Chamois Creme
Bug Spray

Hygene

Tooth Brush
Tooth Paste
Floss
Body Wash
Towel
Lotion
Facemask
Pee bottle
Camp shovel
TP
[Wash cloth]

Fluids

Water bottle
Hydration bladder
Naglene bottles (2 x 48oz)
Fork Racks (For nalgene bottles)
Water filtration
Nuun
[Recovery drink]
Clothes

 

Bike Shorts (2)
S/S T-shirt (2)
L/S T-shirt
Sun shirt
Riding Underwear (2)
Off-Bike Underwear
Capilene bottoms
Riding socks (2)
Shoes (Bike)
Shoes (off-bike)
Helmet
Sweatband/beanie
Gloves

 

Micro puff jacket
Micro puff pants
Sleep Pants
Sleep Top
Rain gear (Jacket/pants/overshoes)
Laundry soap
Clothes line
[Off-Bike shorts]
[Off-bike socks]
[Long-fingered gloves]
[Flip Flops]
[Thermal beanie]
[Vest]
[Arm warmers]
[Leg warmers]

Eyes 

Riding glasses
Regular glasses
Lens Cleaner/Cloth

Drugs

Motrin/Tylenol
Benadryl
EpiPen

Personal

Drivers License/State ID
Credit card
Cash
Checkbook
Proof of Insurance
[AAA card]

Misc

First Aid kit
Permissions
Camp chair
Bike flag
XP Stamp
Book
Notebook/pen/ink; postcards/stamps
Stove repair kit
Tent repair kit
Earplugs
Garbage bag (For rain)
[Book/Kindle]
[Trailer alarm]
[Stool]
[Quarters-shower]
[Watercolors]
[Batteries–AA and AAA]