June 30, 2021
Jeffrey City, WY to Sweetwater Station, WY
20.7 miles/740 ft.
High 70s/light wind
https://ridewithgps.com/trips/70298487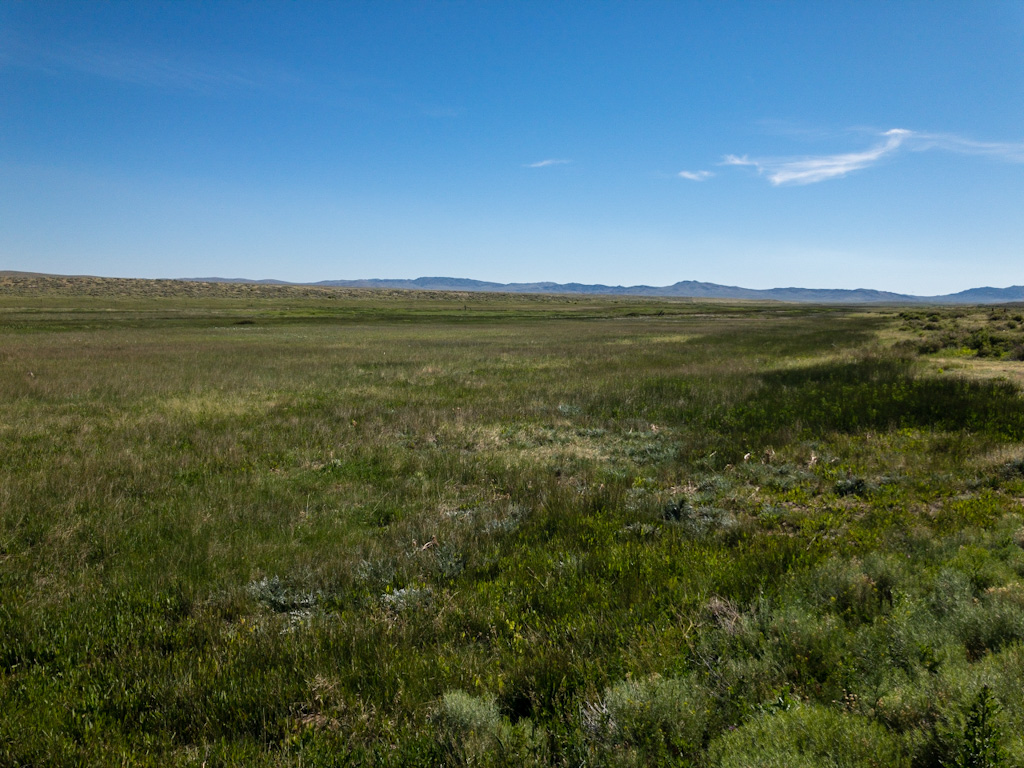 You may recall that a few days ago a few days ago I went on a rant about tandems and Jan's route rather than discuss the ride. Well, here's the ride post.
After I left the Split Rock Cafe in Jeffrey City, I had about ten miles of highway. It was early, so traffic was light. Just before the turnoff to a dirt road, I came across Ice Slough (or Icy Slough). This was another place, like Independence Rock, e.g., that ended up in emigrant diaries.
Men and women both, and especially children, here had looked forward with a the keenest anticipation to the hour they would spend at Icy Slough.

We have many descriptions of the place, for inevitably it proved a diversion. Delano wrote that they here encountered a 'morass, perhaps a mile in length by half a mile in breadth. Some of the boys, thinking that water could easily be obtained, took a spade, and going out on the wild grass, commenced digging. About a foot from the surface, instead of water, they struck a beautiful layer of ice, five or six inches in thickness.' . . . 

Companies planned to noon there for the sake of genuine enjoyment afforded. The travelers could use a little diversion; and, as a morale booster, Icy Slough, the last of the trail landmarks that everyone must pass, had few equals.

Irene D. Paden, The Wake of the Prairie Schooner, p. 221
I understand that runoff from farm and ranches has altered the nature of the slough. It may be that global warming has affected it, too. Alas, I did not have a spade, so I did not go down to check it for myself. But I just wanted to add here that after riding through this area, I now have a better idea why spots like Ice Slough were such a big deal. Plodding through areas like this day after day at a pace of about 2 miles per hour, days on end, weeks on end, months on end, staring at the sky and the rocks and ox butts, you would look forward to anything that broke the monotony. It would have to have been such a relief from so much tedium. So yeah, dig down and find ice when it's hot outside? That'd kill me. Sign me up.
I turned off the highway here to follow the Pony Express route and saw a nice two-track running it seemed like forever south until it disappeared into the hills. I stopped to take a picture. Not that the view was extraordinarily beautiful or anything, but because I have seen similar views numerous times on this trip, and still, every time I see a thread of road winding off to the horizon, I get a little intimidated. I get a little excited, too. I get to see where that goes. How many others have? It strikes me that if a view like that doesn't excite you, then this should probably not be your ride of choice. It may be that a healthy dose of intimidation is, well, healthy. But if that line doesn't draw you forward, maybe you'd be better off riding somewhere else.
It's a different story, however, when that thread of road is just the lead-in to the real trail which is even less visible. So, you have (1) a paved, numbered highway, which you know leads somewhere; (2) a well-defined two-track that you can see goes for some miles, and then (3) The Pony Express Bikepacking Route, which, in this case, was a non-existent trail, perpendicular to the two-track. Not only could I not see if the trail continued longer than a hundred yards, there was no trail to see. Only a concrete trail marker at the top of a short hill to indicate a direction. I went through all this in my pervious post, so I don't need to rehash it, except to say that I find trails like this more intimidating than inviting.
I struggled up the hill to the marker and found a more definite trail heading west from there. The trail got better and worse, as these trails usually do. In time it led to the marker for the Warm Springs Pony Express Station marker. The marker sat next to a marshy area, which I took to be Warm Springs though, as you'll soon learn, not everyone agrees on this location for the station.
As far as sights go, that was about it for this ride. I arrived a little before noon at Sixth Crossing/Willie's Handcart Center on the eastern edge of a tiny hamlet called Sweetwater Station. The visitor's center itself is rather imposing. It looks like a ski chalet, and at first I thought I had stumbled on the vacation home of some Californians who'd bought property here for a summer house. But no, it was the right place. And waiting inside to greet me (or anyone who wandered in through the doors), was Ann Cook of the Da Vinci tandem.
We talked while we waited for Keith to make his way up to the visitors' center. The center sits on a rise above a turn in the Sweetwater River and has a commanding view up the river for some distance. The Sweetwater here is a beautiful, serpentine ribbon coiling back on itself amid lush, deep green bottomlands surrounded by sand and sage. I loved the view . . . But I also saw it as a lethal breeding ground for legions of mosquitoes. There is a camping area spread into one of the bends in the river just below the center. Normally it would be filled with children who would have come to participate in a handcart reenactment; but it was empty as there are no reenactments this year due to Covid. In a normal year, I might have camped there, too. At that moment, still scratching bites from Devil's Gate near Martin's Cove, I was content to enjoy the view from afar and thankful not to be looking forward to facing off hordes of blood-sucking insects.
Keith made it up to the center and we shook hands and looked at each other, much as Ann and I did, with absolutely no facial recognition taking place for either of us. But the warmth of our communications since I reached out six or so weeks ago was enough to preclude any awkwardness. I felt instantly, unconditionally welcome. It was as I had reassured MJ back in Casper: I would be taken care of. Starting with lunch.
Keith and Ann live below the center in an apartment (until their mission is completed this fall). Keith started pulling food and drinks out of the refrigerator and inviting me to eat or drink whatever I wanted. After lunch, we moved my bike down to the center's garage. And in a sense, this is when the fun began. There were eight volunteers (four couples) at the center this summer—normally they have 14 couples—and all of them are cyclists to some extent or another. The garage area had a spotless concrete floor and a handful of high-end mountain bikes, each of which had its own stand and seemed to be perfectly maintained. There was a bike work-stand, tools, pumps, trainers . . . It looked like a bike shop showroom. And the words Keith had been writing finally made sense to me: Everyone is looking forward to your visit. Because, yes, they all loved riding and with me there they would have an excuse to take a little off-road bike tour, because there is nothing a cyclist would rather do than show off their riding ground to a newbie.
My dirty bike and dusty trailer stowed, we got into a side-by-side, one of those Off-Highway Vehicles (OHV) that are four-wheelers with motorcycle engines. Loud as hell but they'll go anywhere. Perfect for the high desert. Up to this moment, I was thinking Keith would want to ride to the historic sites he'd told me about, and to be honest, I had been dreading it a little. It was in the afternoon now, warming up. I was really glad to be driven around for a while.
We first went south of the emigrant trail I had come in on and he showed me a historical marker for the Seminoe Cutoff. I had heard of this, but never paid it much attention. It was a cutoff that stayed south of the Sweetwater River and allowed emigrants to avoid several crossings of the river (there were nine in all) and to avoid the hard climb up Rocky Ridge (more about that in a subsequent post). The down side is that this trail took emigrants further from good water. Every route and cutoff had its compromises. You can read more about the Seminoe Cutoff here.
Keith was convinced that the Pony Express followed the Seminoe Cutoff because it was shorter. I haven't done the research yet to find out if that's true. As a single horse, rather than an ox team and wagon, it seems the Pony could get around a couple of the crossings wagons could not, and in that sense, maybe the Cutoff would save time.
In any case, after reading the sign we went to a spot the rancher who owns the land is convinced has the ruins of the Warm Springs Pony Express Station. At least one authority places the station on the Seminoe Cutoff, so it was entirely possible. Not to use the word too much, but at this point, the claim is simply nondisconfirmable. At least by me.
After that, Keith whisked me a short distance away to a warm spring. Was this Warm Springs (as opposed to the low marshy land I had passed earlier?) He didn't know. But it was cool to be standing in the middle of a sagebrush desert watching warm water bubble up out of the ground and create a small pool before running off into the sand.
We zoomed back to the Center. Those side-besides really zip along, which I cannot say I was entirely comfortable with, having readjusted my top speed in life to about 15 mph for the last month. It was kind of thrilling, and certainly preferable to riding a bike that afternoon. But I did perhaps grip a little harder than maybe I needed to.
A higher-up from the Church was visiting the Center that evening and they were going to have a meeting, so we ate dinner early and I stayed downstairs in the apartment to write while they all did their thing.
Afterward, Keith asked if I'd be willing to talk to the volunteers, so I said sure, and went up to meet those whom I hadn't met yet and answer their questions about my ride. Although it's a little embarrassing, I have to admit that there are times I like being the center of attention. Lisa tells me I'm a social butterfly, though I'm not sure if she's being serious or maybe a little sarcastic (or both?). It was fun talking about the ride though, and that soon morphed into plans for the next day's ride. I bowed out of that discussion because it was all about duties and who could cover for whom and what needed to be done when. But they worked it out amongst themselves in a way that seemed very familiar to them as a group. All the couples had kids, and (all or most) grandkids. But they went at the problem of figuring out duties and schedules almost as if they were kids, in the sense that it was a fun set of problems, not a vexing one. It was fun for me, too, watching them go at the work assignment issues almost playfully as they tried to figure everything out and be fair to each other. It was also interesting to listen to them address each other (even spouses) as "Elder" and "Sister."
Then came sleeping arrangements. The Cooks had a trailer I could use. But due to Covid, the Church allowed only family, not friends, to stay on church property. So Keith came upon the idea of moving their trailer to BLM land (Federal Bureau of Land Management) which lay next to the Church property. Before I knew it (though after root beer floats), the guys were off hitching up the trailer and moving it to a patch of ground about 1/8 mile from the visitors' center. Issue solved. Keith ran me and my huge bag of gear out there in the side-by-side, and that was pretty much it for the day.
The feeling I am struggling to convey here is the open-handed welcomeness I felt. The folks here seemed truly happy to have me there, to be honestly interested in my trip, to want to join our next-day's mountain bike ride or support it however it worked best for everyone concerned. It would be easy to write off my presence as a welcome distraction from routine—like coming across Ice Slough in the middle of the Wyoming high desert—but it felt deeper than that. Again, I felt taken care of. That is no small thing anywhere. It felt even more special in that arid, forbidding, sparsely-populated section of the world that I came close to avoiding on this trip.