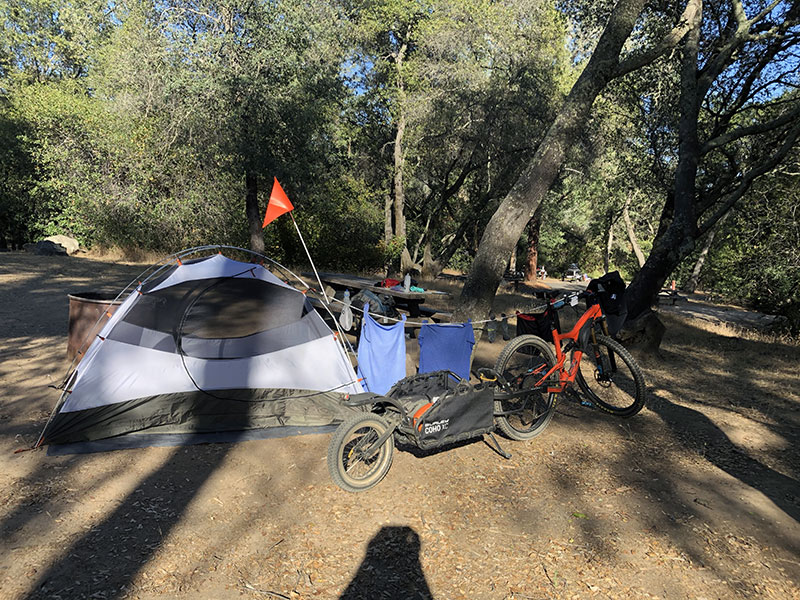 A couple of weeks ago I loaded up my bikepacking rig to do a shakedown ride. My plan was to ride from my house in Davis, CA (about 15 miles west of Sacramento) up to the state campground at Beal's Point (on Folsom Lake), and back the next day.
The route is just over 50 miles each way. From Davis to Old Town Sacramento (the terminus of the Pony Express Bikepacking Route) is a combination of gravel roads and pavement. From Discovery Park (about a mile up a levee road from Old Town, at the junction of the Sacramento and American Rivers) the course is all on the American River Parkway (AKA Jedediah Smith Memorial Trail).
As for my rig, I decided that for my initial trips I would load everything I think I need to be comfortable. My thought is that over time I will pare out the truly unnecessary items and learn to live without a few of the non-essentials. As a result, I would estimate that between trailer and gear, I am probably towing 50 pounds. That's in addition to the weight of the bike (which has to be well over 20 pounds) and the plus-size knobby tires. Which is all a long way of saying, not a sleek arrangement.
The ride both ways went fine. Fifty miles was about as long of a day as I wanted to put in. There are a couple of uphill pulls along this route, especially between Folsom and the lake, but nothing that low mountain bike gearing couldn't handle. Of course, the roadbed was smooth (asphalt or hard-packed decomposed granite) so that helped ease the difficulty. Traffic was light on the way up, mostly I suppose because it was a hot afternoon. Leaving in the morning for the return trip was more crowded: bike clubs, joggers, dog walkers . . . the usual mixed-use-path crowd. Still, I had ridden parts of this a couple f weekends earlier, and it was much more crowded then.
The campground was great. It's expensive ($33/night, plus an $8 reservation fee—under COVID restrictions, they currently require reservations for all campers). Showers cost extra (bring quarters). There is a large amount of space for each campsite. Nevertheless, neighbors' noise carries, despite regulations that require noise not to be hearable beyond each campsite. Happily, there is a 10pm noise curfew.
All in all, I would recommend this as a campground for those who want a sorter last-day run to Sacramento. It's about 4 miles off the PX Bikepacking Route from Folsom, but well worth the detour. The nearest campground along the Route is 20-or-so miles back in Shingle Springs, and as of this post, it isn't accepting any campers other than self-contained RVs.