Today I went on a relatively long drive (50 miles) for a relatively short ride (26 miles). I wanted to scout the next section (to the east) from my last scouting trip: Placerville to Shingle Springs (Mile 2144–Mile 2155 on the PX Bikepacking Route).
Unlike my last trip, I rode this as an out-and-back rather than a loop. The reason is that part of this stretch (from roughly Mile 2144 in Placerville to just past Mile 2150 in El Dorado) is all paved, separated bike lane: I knew I wanted to ride that. But the next section, from El Dorado to Shingle Springs, as mapped out on the PX Bikepacking Route, is on fast moving, narrow county roads (Pleasant Valley Road and Mother Lode Drive): I knew I definitely did not to ride that if I could avoid it. The 2017 Centennial Route sticks to the unpaved Eldorado Trail (rail-to-trail path) from the end of the paved bike path to Shingle Springs, so I rode that both ways to check it out.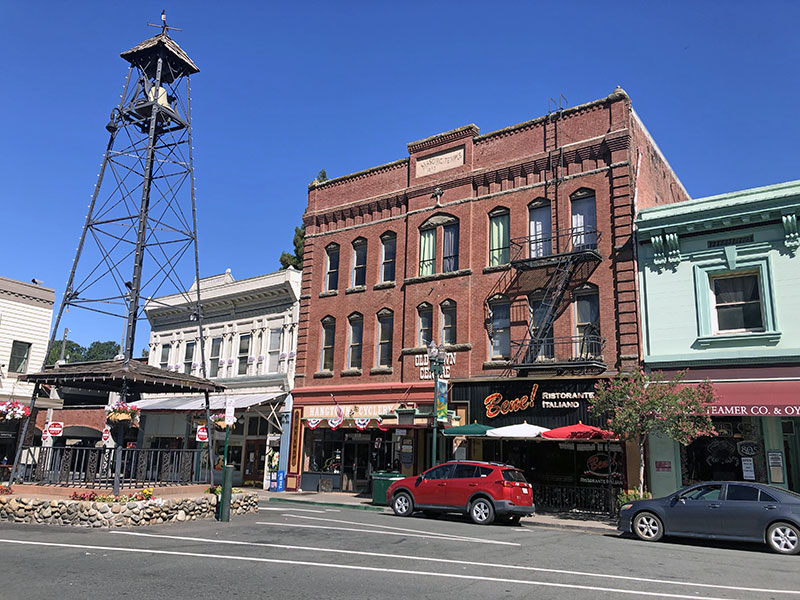 Placerville to El Dorado
Placerville seemed nice. The downtown is small. There are historical markers for the Pony Express and Snowshoe Thompson and some nice old buildings from the Gold Rush era. Also a few cool looking places to eat, get coffee, etc. Even a very nice used book store. It'd be a nice place to spend an evening, or take a long break.
Between Placerville and El Dorado, on the paved portion of the trail, there was a lot of foot traffic. Some bikes, walkers, and joggers. And lots of baby strollers for some reason. Also, the bike path is broken up in a couple of places close to Placerville, so you kind of have to keep an eye out to find the continuation. Part way down you cross Weber Creek on 120-ft tall Weber Creek Bridge, presumably originally a railroad trestle.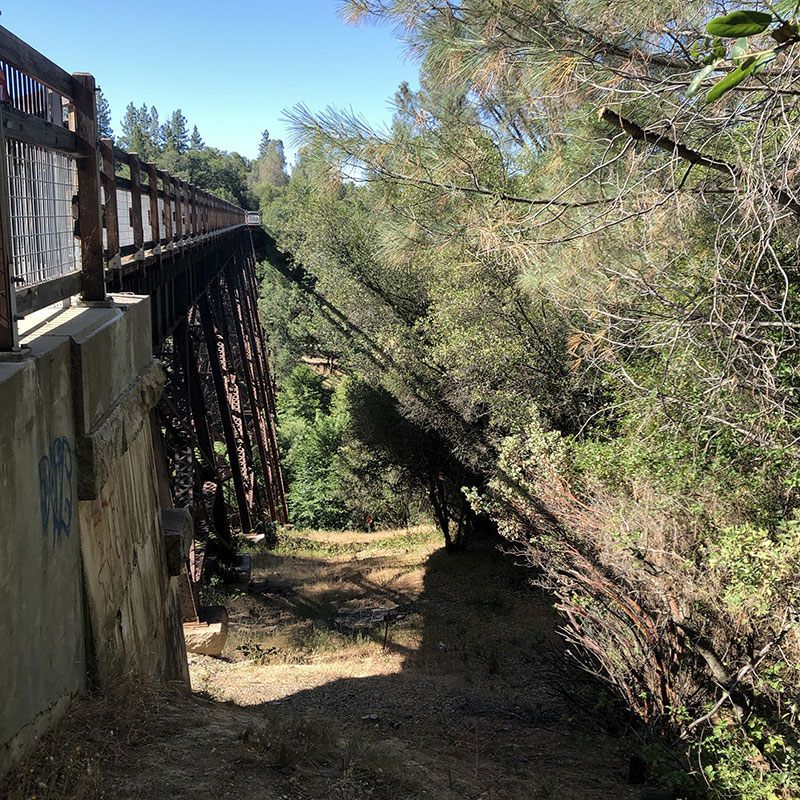 In the tiny town of El Dorado, where the paved bike lane ends, there is a Pony Express memorial for the El Dorado (or Mud Springs) Station. Also, just off the trail, in the old El Dorado station building, are restrooms and a drinking fountain. Good to know on a hot day. This is where you exit the paved bikepath and get onto the county roads if you're sticking to the PK Bikepacking Route.
El Dorado to Shingle Springs
As it turned out, the unpaved portion of the Eldorado Trail from Eldorado to Shingle Springs was fine. Some of it was beautiful. It was very similar to the unpaved section from south of Folsom to Shingle Springs which I rode last time (on my eastbound leg). There were a couple of places where I feel I'll need to ride on the railroad bed and avoid the singletrack (that runs alongside) when pulling a trailer. Some of those sections are straight up mountain bike trails. The problem with going on and off the roadbed between the rails is that I will have to stop, and maybe even unhook, to get the trailer over the rails. But given a choice between that and hugging a tiny shoulder while being passed my fast-moving traffic, I'll take the former.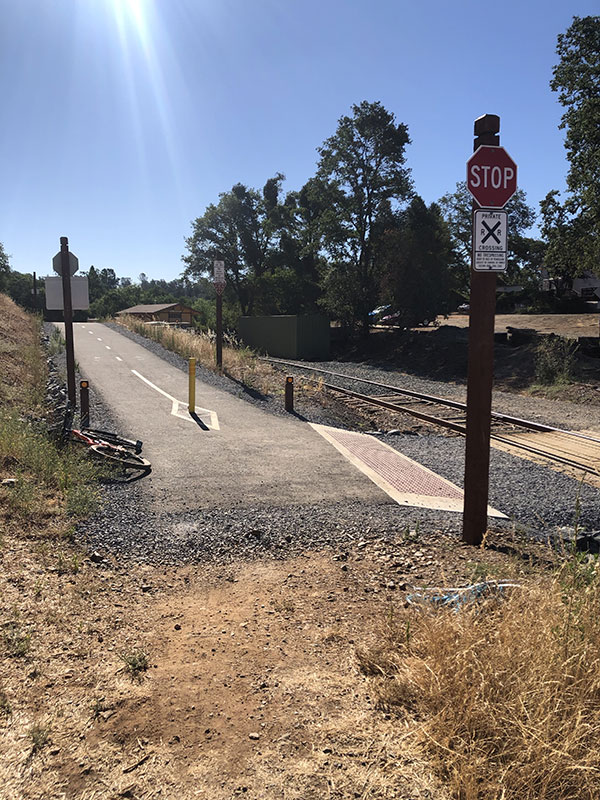 This alternate route  along the unpaved portion of the Eldorado Trail is about two miles longer than the PX Route. Not long before Shingle Springs the RR track makes a bend to the north to meet US 50 through "The Cut," a place where the roadbed was hewn out of rocks. This detour adds on the extra miles. So, for those who are trying to get somewhere, the PX Route would be faster and more direct. For those who have a little more time, or who don't mind taking more time, or just would rather ride away from traffic, I think this would be a great alternative. It's certainly the route I'll take through here.
At this point, I've scouted from Placerville to Sacramento via Folsom, all western termini of the Pony Express. The original terminus was in Sacramento (April 4, 1860). As the Sacramento Valley Railroad building progressed, the terminus moved to Folsom (July 1, 1860), and then to Placerville (July 1, 1861). This ride could be done on a bike in one long day, though it would seem a shame to rush through this last stretch.
More Pictures from the ride: