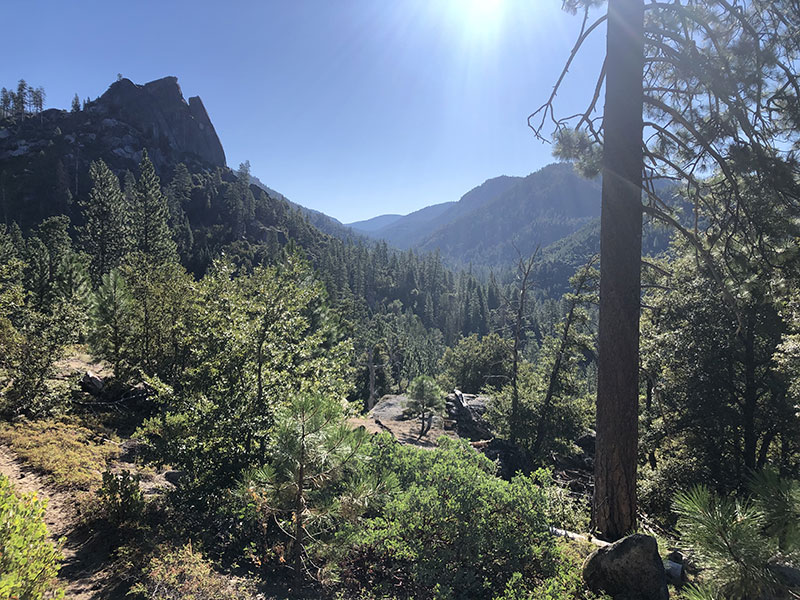 This past week I took a couple of days to car camp and scout the upper (eastern) California portion of the Pony Express Bikepacking Route between Kyberz and Echo Summit. As it turned out, I only managed to scout the trail between two campgrounds, Sand Flat and Lover's Leap (Miles 2093 to 2107). I got a flat tire on my return trip, and wasn't able to plug the tire (hole was too large, or I was too inept), and was far too bonked to take the time to boot the tire and put a tube in while keeping ants off. Without sufficient backup materials in case I got another serious flat, I decided to scout the last portion (Echo Summit to Lover's Leap) another time.
For this portion, the XP Bikepacking Route and the 2017 Centennial Route follow the same course: a trail marked "Pony Express Trail," which starts in the east at US 50 near Strawberry (Mile 2094.5, marked "TH" on the PX Route) and ends in the west at Weber Mill Road, west of Kyberz (and just east of Mile 2107). As the route through this section is almost entirely single track, and the mapmakers both commented that it was hard to follow in places, I created two separate routes, one eastbound, and one westbound, so I could mark the difficult places more carefully. (Links to my planned routes and real-time ride routes are in the sidebar. The Ride maps have a lot of comments and pictures, which I hope are helpful.)
Eastbound from Sand Flat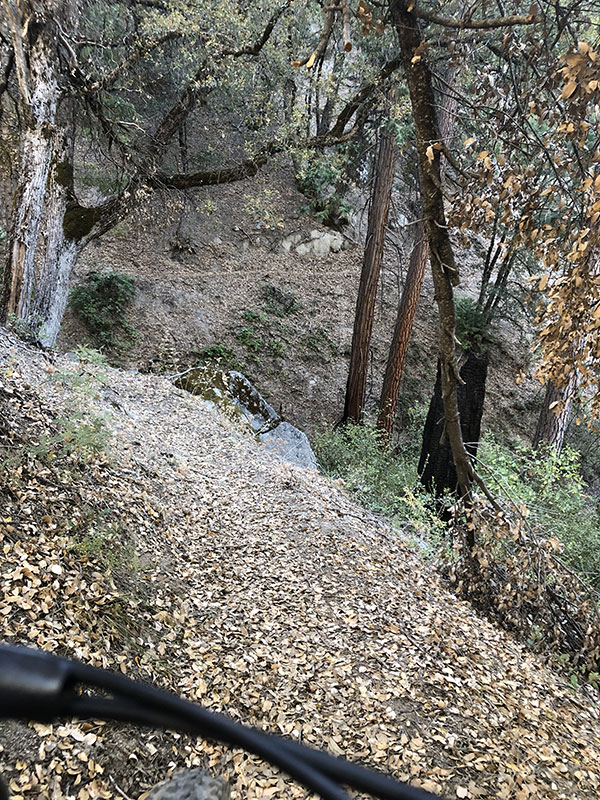 I camped at Sand Flat Campground, which was a very pleasant spot on the American River. Note that if you decide to camp here, they don't take reservations, and it tends to fill up later in the week. I came on a Tuesday, and by Wednesday night, all the spots around me were taken.
From here, you ride up Weber Mill Road (about 1/4 mile east on US 50, marked with a "31 Milestone Tract" sign). The Pony Express Trail turns off from Weber Mill Road about 3/4 of a mile up (marked by a signpost). And for the most part, that short climb up Weber Mill road is the last relatively easy stretch you have until you reach US 50 at Strawberry, about 14 miles east.
Seriously. This was by far the most difficult ride I've had so far. By the time I rode to Lover's Leap Campground and back, it was about 30 miles and took over 8 hours. Granted, I stopped a lot to take pictures and makes notes, and was slowed quite a bit by trying to fix a flat, stopping occasionally to top off the slowly-leaking tire, and as the day went on, walking more and more of the hills . . . but still. This was a tough ride.
Part of the problem is that the trail is in such bad repair. Especially near creek crossings. Some of them are so overgrown you are riding through overhead brush with no trail in sight. I was hit by so much overgrowth throughout the day that I would go so far as to suggest riders consider long-fingered gloves, sleeves, and even leggings through this stretch. It may be that because the Pony Express annual re-ride was cancelled this year, no one bothered to perform any route maintenance. Neither Jan Bennett nor the organizer of the 2017 Centennial Ride noted such out of control overgrowth. But there were places where I was literally riding through bushes, and others where they crowded the trail thickly enough to grab at my handlebars as I passed. The good news is there was no poison oak; the bad news was that there were nettles, and I have the scratches to prove it. (I have an email into the Pony Express folks asking about trail maintenance and conditions, so I'll report back here if they have any comment.)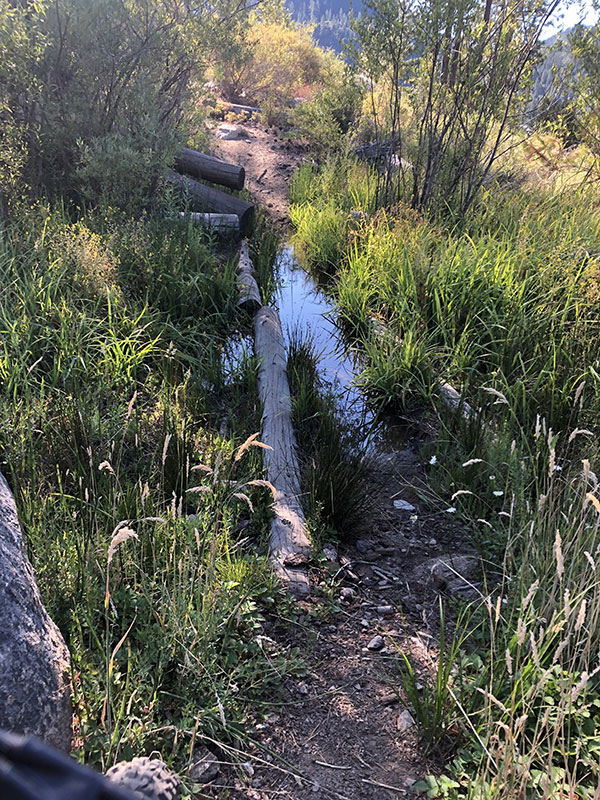 Many of the stream crossings are not bridged (no big deal this late in the season), but some seem as if they were detours, places where maybe the trail was washed out at the original crossing, and new one improvised a little further downstream with steep, loose, twisty approaches, a couple of which I found impossible to navigate without dismounting, and hiked out of with some difficulty.
Even where the trail is in reasonable condition, the soil (at least at this time of year) was often very loose dirt and/or covered is slippery oak leaves or pine needles. By loose dirt, picture Pig Pen from Peanuts. You know how the cloud followed his every step? That kind of loose.
Also, I found some of the climbs ridiculously steep. Some were ridiculously steep and long. With loose dirt. In short, even on the outbound leg when I was fresh, I found I had to walk a lot more than I ever would have expected. And that was on an unloaded full-suspension MTB with ridiculously low gearing.
By the time I reached Lover's Leap Campground, I was beat. The campground is lovely, and small. It doesn't accommodate RVs, which is nice. But all the campsites are on a hill. I was too tired to look around and see how accessible the sites were by bike, but did notice people schlepping gear to and from cars on the parking lot. I'll try to take a closer look on my next trip to see how bike-friendly the sites are. For this visit, I mostly parked myself by the water spout and restrooms while I ate and rehydrated and readied myself for the return trip.
Westbound from Lover's Leap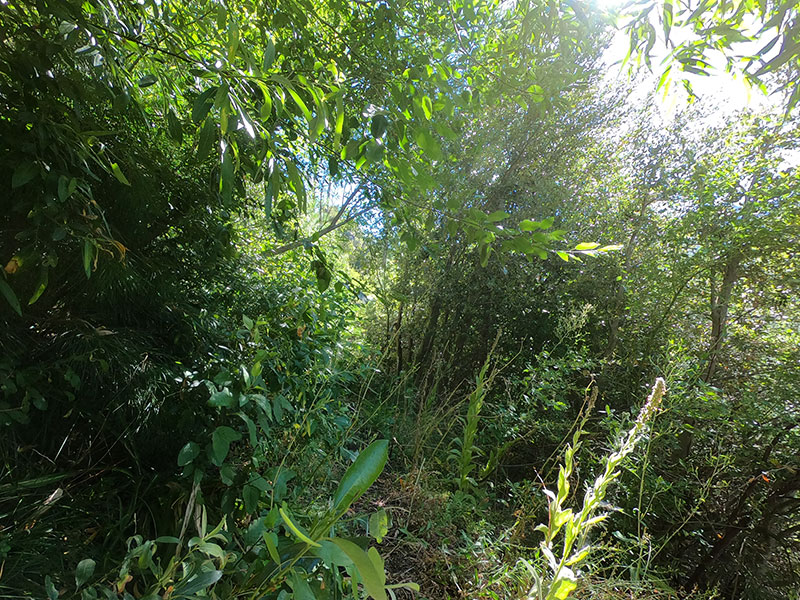 This stretch of trail is definitely better westbound than eastbound. There is 1,000 feet of climbing over 14 miles, but that's a lot better than the 3,000+ eastbound.
Nevertheless, it is still tough. RWGPS says the steepest pitch is 13+º, which may be true. Whatever it was, I was not able to make a number of climbs. More than that, even taking into account my poor nutritional planning (resulting in a bonk), and the flat, and fatigue from the eastbound ride up to Lover's Leap earlier in the day, I conservatively counted at least a half dozen places where the condition of the trail and/or the steepness of the climb would make it impossible for me to ride without uncoupling my trailer, walking the bike up, then returning to carry the trailer . . . or making two additional trips: one for the gear and another for the empty trailer. There's just no way.
Notably, the trail along here touches US 50 in three or four places, offering the option to bail off the trail for smooth, fast (if busy), highway riding. And I have to say, as much as I hate sharing the road with cars, this is one stretch where I will seriously consider riding the dangerous pavement over the difficult trail when I am riding with a fully-loaded trailer.
By the end of the ride, in my semi-delusional, post-bonk state, I was wondering aloud, "Who would build such a stupid trail?" Though, really, a less G-rated version of that question. But what I mean is, some of the trail is so bad—mostly, so steep and in parts so unnecessarily twisty—that there is no way this is the actual historical Pony Express route. That is, some of it must be. There are a couple of stretches of decent gravel, new pavement (where it meets Wright's Lake Road) and even some ancient asphalt, probably from the prior roadbed of US 50. But other sections, especially where the single track trail climbs away from a double-track section on a steep pitch, for example, where it seems clear that the trail has shifted. By April 1860, when the Pony Express first ran, this road had been travelled for ten years by wagons headed over to the mines at Virginia City, let alone whatever emigrant traffic it saw. In other words, the Pony Express riders did not ride this ridiculously contorted road. It would have been far too slow.
Which is all a long way of saying, if you're like me and want to ride as much of the original trail as possible, you should not feel like you're missing out if you skip some or all of this section. I would estimate maybe 20% of it is possibly original, but the rest has been patched together over the intervening years as erosion and other forces have taken their toll.
But then again, that's just my opinion.
More Pictures from the ride: