This past week (October 2) I made it back out to Austin, Nevada, to scout the trail between Dry Creek Station and Simpson Park Station. The Pony Express Bikepacking Trail has mapped out a couple of routes in this area, but neither of them stayed on the XP Trail between these two stations. One concern was that the Simpson Park Station was on private property. I've been wanting to see if the XP Bikepacking Route could stick with the XP Trail through this section,
A few weeks earlier I rode to what I thought was Simpson Park Station from the west )though the actual site is about one mile northwest of the building I found), so I knew there were no private property issues from that direction, though there are range fences to be opened and closed. The question, then, was whether there were any barriers from the east.
The distance between the two stations is nominally short, just about seventeen miles. I was reasonably sure I could make a thirty-four mile round-trip ride in one day. But looking at my past scouting rides, I wasn't certain. Between the altitude (6,000-7,200 feet), the climbing (2,000 feet in each direction), the uncertain terrain and possible presence of locked fences that would require me to turn around, the extra time I take to take pictures and add notes to RideWithGPS, not to mention my less-than-top climbing shape, I wasn't sure I could make it. Plus, this time or year the temperature drops below freezing at night. I wanted to travel as light as possible, which would make un unplanned stay in the desert air uncomfortable.
Luckily, I was able to arrange a ride out to Dry Creek so I would only have a one-way ride back to Austin. That meant adding on another eight-mile leg, plus another 1,000 feet of climbing, to get from Simpson Park Station back to Austin. But I also know that once at Grass Valley Road (near Simpson Park Station), I had the option of riding pavement back to Austin if I needed to. The downside was that if there were any absolute barriers along the trail, I would have to backtrack, get down to US 50, and potentially have a much longer ride than I planned for. But I didn't see a less risky way to scout this section.
Dry Creek Ranch and Eagle Butte
One of the fun parts about scouting for me is that I get to learn a lot more about the sections I'm scouting. For instance, on this leg of the XP Trail between Dry Creek and Simpson Park, the biggest challenge is Eagle Butte.
Most of the XP Trail through Nevada was scouted in 1859 by Captain James Simpson of the US Army's Corps of Topographical Engineers. Simpson led an expedition of exploration from Camp Floyd in Utah to Genoa, Nevada. Camp Floyd was an army post in Cedar Valley, about forty miles southwest of Great Salt Lake City. Genoa was a small settlement located at the eastern foot of the Sierra Nevada mountains. The mission of the expedition was to find a practical route for wagons through the central part of Utah and Nevada. Until the Simpson expedition, the main emigrant roads led north of the Great Salt Lake. Even those that passed by the south of the lake, like the Hastings Cutoff taken by the Donner Party, worked their way northwest to the Humboldt River. Simpson was to find a more direct route.
Simpson's westbound party camped at Dry Creek. But rather than go straight over the mountains to the west of camp, the party determined that crossing the mountains at that point was impracticable for wagons (Simpson, 75-76):
The pass immediately back or west of camp, which would shorten the route considerably, not being practicable for wagons, though pack-animals can use it.
Instead, the expedition headed south and rounded the range at Hickison Summit. This became known as Cape Horn. There is a campground there now (Hickison Petroglyph Recreation Area), and also a stage station marker.
Later in 1859, George Chorpenning was laying out his mail route following Simpson's directions. He set up a mail station at Dry Creek, near where Simpson had camped. When Russell, Majors & Waddell took over Chorpenning's route to establish the Pony Express, they assumed the Dry Creek Station; but instead of going around the mountains via Hickison Summit, they sent riders straight over, just south of Eagle Butte. This is the pass of the Pony Express Trail. It is known as Streep's Cutoff, and is also called Streeper's Cutoff after the rider William Streeper). For emigrants who tried to follow the Pony Express over Eagle Butte, the pass became known as "Fool's Cutoff." Here's a quote from one who tried:
Next day drove nineteen miles over a level desert and camped at Dry creek. Poor feed. Here we took Fools cutoff, which is all the term implies. Traveled four miles up a steep and rough mountain.… Reached the summit at noon, turned the stock loose on good grass. After dinner hitched the wheel animals to the wagon and started down. After going a little ways we cut down a good sized pine tree and chained it behind on the wagon, and drove down about a mile to a spring and camped.
After I read that passage, it finally dawned on me that that was exactly why scouting some portions of the Pony Express Trail are so difficult and slow. At least in the western half, much of the Trail is a horse trail, not a wagon road. Of course it's not a smooth, easy road. I felt a little dumb coming to that realization so far along in the process.
In any case, the Pony Express Trail hits Dry Creek Ranch directly west of Mile 1833 on the XP Bikepacking Route. (The Route currently turns south here, by may be revised in the future to continue along this part of the Pony Express trail). There are two gates to go through, both easily opened. Between the gates are a Pony Express memorial and a Central Overland plaque. Once through, it is a four-mile climb to the top of Fool's Cutoff just south of Eagle Butte. Parts of the trail near the creek are overgrown, and it may be a little swampy in the early summer. Once the trail starts the steeper part of the climb, the trail deteriorates somewhat (loose dirt, rocks). During the climb there are a couple of places with great views to the southwest into Kobeh Valley (Dry Creek is at the north end of this valley).
As long as we're talking about names, Eagle Butte is in the Simpson Park Mountains, which the Native Americans called "Pah-re-ah." (I say "Native Americans" because the Simpson report doesn't clarify which nation or band lived in the area. The closest I can determine is that both Northern Paiute and Western Shoshone inhabited this section of Central Nevada. In his report and page 38, Simpson identifies the locals as "Pah-Utes, who are of Sho-sho-nee origin." And whenever he comes across one or more Native Americans in the area, he disparagingly refers them as "Diggers.") In any case, "Pah-re-ah" translates as "Water Mountain," so named "on account of the many streams which flow down its sides into Kobah Valley."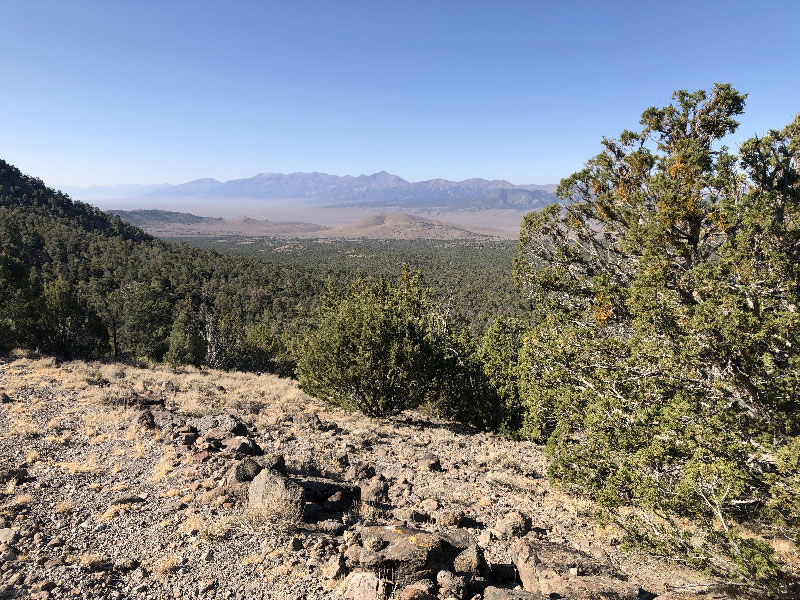 The descent down the western side of Eagle Butte is sketchy. Very loose, very rocky. It is probably a running torrent after a downpour. I can't imagine riding it on skinnier tires (under 2.1", that is) or without front suspension. I took this part much slower than I wanted to because I was concerned about crashing in an area where no one may come along for days, or longer.
For some reason, the trail signage gets less frequent in this area. Up to the summit, the signs were placed fairly regularly. But here, where it's easy to get lost in the trees and undergrowth, there were fewer. For some reason, my "off-course" warning was not going off, and I somehow wandered off the trail. It took about fifteen minutes of stumbling around over rocks through undergrowth to find it again. I probably should have retraced the route at this point to figure out how I lost it, but decided to continue on.
At first, I was stopping to photograph and note all of the creek crossings, mostly because the trail drops and climbs pretty abruptly into and out of the crossings. But there were so many, I stopped. Just know that if you ride this section, there are a lot of sudden drops and rises.
Rye Patch Valley

Eventually the trail keeps dropping until you're out of the trees and heading down the western slope of Rye Patch Canyon at the north end of Big Smoky Valley. The original name was Won-a-honupe, or Willow Creek (and Valley). The descent here is quicker, though by no means smooth.
Just before the bottom of the valley, the two-track I had been riding veered to the left (or south). The Pony Express Trail runs straight, but I didn't see a good cutoff. As a result, I ended up, on the other side of the creek,  about 1/4 mile below the forest road that heads into Simpson Park. There is a well-graded north/south road at this point, so it's easy to get to the Simpson Park road. I got off the bike and looked for the Pony Express Trail as it came into the valley bottom from the east, but couldn't find it. It may be possible to follow the Trail to the valley bottom and directly across to the north/south road into Simpson Park. But I couldn't find it, which leads me to believe it would be a slower ride through the sagebrush and greasewood than the more travelled road I took.
From there, the trail climbs again. At this point, you're on the eastern edge of the Toiyabe Range (or "Pe-er-re-ah" (meaning Big or High Mountain). There are no monster climbs here, but at times you are in very loose sand and dirt, sometimes next to and other times in the bottom of a wash. Again, I lost the trail a couple of times. It really pays to keep your eyes out for XP Trail signs, which can be (1) flat orange trail markers, (2) red galvanized fence posts, (3) or burnt, pointed branches pointing straight up. also, it helps if your GPS tells you you're off track ( which, again, mine wasn't).
Simpson Park
Eventually, you enter the southern end of Simpson Park. You'll know you're there because almost instantly the plant life changes. Everything is more green, and unfortunately, the road is more overgrown. Obnoxiously so. I am reasonably sure the National Pony Express Assn comes through and cleans up the trail before their annual Pony Express re-rides. They hold these every year, usually in June. They didn't hold one this year, of course, due to Covid-19, and so the trail wasn't swept, so to speak. If they do clean up before every ride, this section should be a lot more pleasant.
The trail winds up the eastern side of Simpson Park, and eventually you come across the remains of what I took to be Simpson Park Station. On later research, I found the station site is about a mile northwest on the Wolf Ranch property. I don't know if it's accessible, and I rather doubt it. I hope to find out on another trip. This is probably one of the better locations in Nevada for a station. Simpson Park has water, the view of the nearby mountains is nice. But still . . . Hard to imagine living here in 1860.
From here, there are couple of ways out of the park and onto Grass Valley Road, which leads to the next leg, a relatively short ride to Austin. You can read more about the trail west of Simpson Park here, if you're interested.
Grass Valley to Austin
The XP Bikepacking route used to continue west on the Pony Express Trail through Emigrant Canyon, over Simpson Pass, and south into Austin. Currently, it takes a somewhat shorter route up Thorpe Canyon to Austin Summit, and from there, turns west for a straight drop into town. The road is two-track the entire way. It gets steeper and has a few loose dirt and rock sections as it climbs a thousand feet over four-and-a-half miles to Austin Summit. But compared to the scramble over parts of the trail east of Simpson Park Station, it is very ridable. After the summit, it is a fast downhill through Pony Canyon into Austin.
Once in town, you're back on US 50, which is the main (and just about only) drag. A lot of the town is shuttered, but as noted on the XP Bikepacking Route map, there are limited camping options, a few small hotels, and a gas station convenience store. It's a good place to get a night's rest after a day on the trail.
(Note: Historical references are from Simpson's Expedition report, and Jesse G. Petersen, A Route for the Overland Stage (2008). Both are available online as downloadable pdfs.)