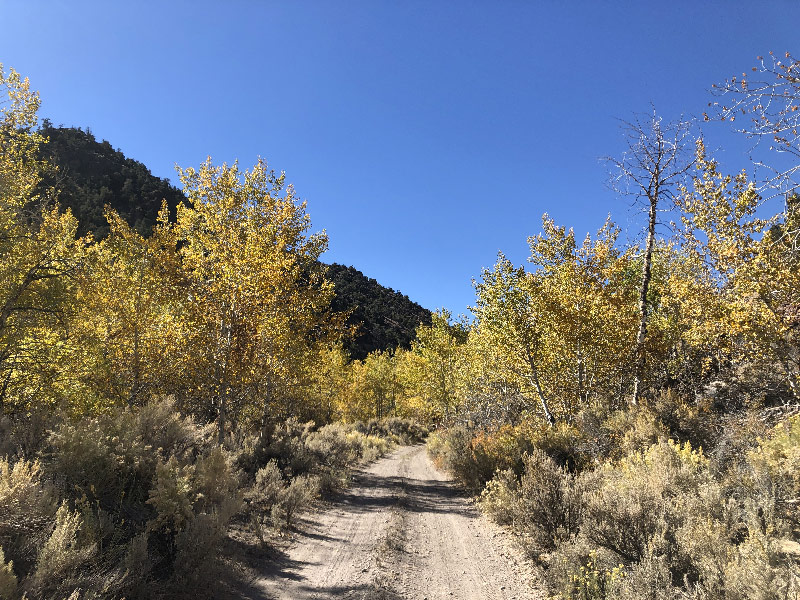 Scouting a route to Basque Summit is a particularly interesting story. As I've mentioned elsewhere, the original XP Bikepacking Route goes through the Desatoya Mountains (known as the Se-day-e Range to the Simpson Expedition) by taking a southern route on Nevada State Highway 2/722. This is a historical road, in that it is the route Simpson took on his outbound (westbound) leg of his 1859 survey to find a direct road between Salt Lake City and Genoa. It is also the original route of the Lincoln Highway.
But, it is not the route of the Old Overland Road or the Pony Express Trail. Those routes headed WSW from Smith Creek Summit, crossed Smith Creek Valley, then headed into the middle of the Desatoya Mountains to Basque Summit. From there, the routes turned north to follow Edwards Creek out of the mountains, then west (on a route that parallels US 50) to Middlegate.
The problem is that the Old Overland Road and Pony Express Trail run through modern-day Smith Creek Ranch, and the owners have gated the road, barring passage. As a consequence, the XP Bikepacking Route goes through the mountains to the south, and in so doing bypasses three stations: Smith Creek, Edwards Creek, and Cold Springs.
But due to new technology, Jan discovered a possible alternate route from Smith Creek Valley to Basque Summit, which promised to enable passage along the Old Overland Trail through the Desatoyas. Ride With GPS has added a Heatmap layer to their maps. According to RWGPS, "The Ride with GPS Heatmap displays aggregated data from publicly-recorded trips and highlights it on the map, showing the 'heat' generated by these activities so that you can see where people are riding, anywhere in the world." And as it turns out, there is an unlabeled jeep trail that runs into the Desatoya Mountains south of the Old Overland Trail, which bypasses Smith Creek Ranch and joins the Old Overland Trail further west.
So I headed back to Austin to ride this route and see if (1) it was in fact open to the public, and if so, (2) what kind of shape it was in.
The Jeep Trail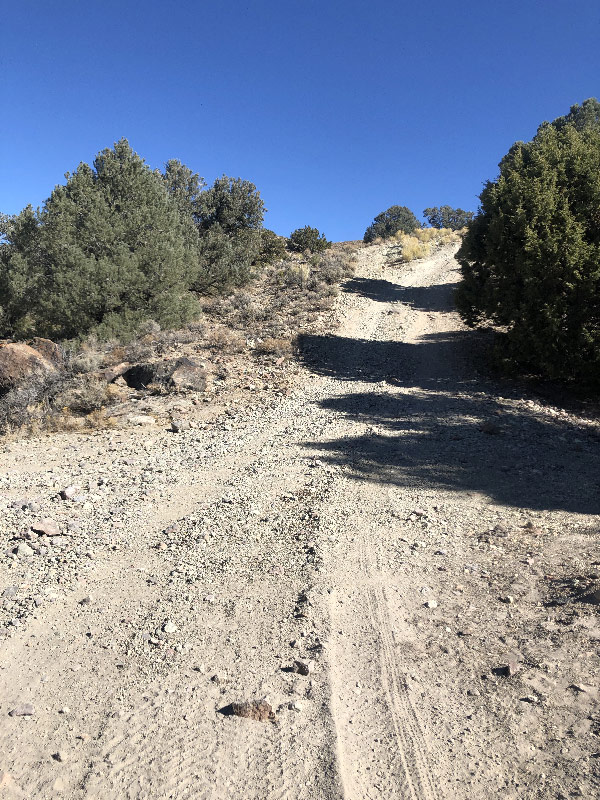 I'm happy to report that, yes, the trail is open all the way to Basque Summit and that is easily-followed two-track the entire way. In fact, the trail was easy enough to follow that I was able to do it without having it laid out on my GPS. Somehow, when creating the route, I got distracted, or was lazy, but in any case did not notice that the planning tool in RWGPS jumped off the jeep trail and traced the Old Overland Road instead. Luckily, I had mapped a second route to the ride start, so I knew where to pick up the trail. I put the GPS in "Satellite" mode and followed the trail, keeping toward the northwest at junctions as I knew from my planning that was where Basque Summit lay. A couple of the intersections were even marked with blue ribbons, which helped confirm my educated guesses.
The grade is reasonably steady. It's a 1,500' climb over 9 miles, so it is a climb. But there was only one section I walked, and that was because I wasn't paying close enough attention, got sidetracked, and was almost near the top anyway. As it turns out, the hairiest part of the trail was a descent. It's pretty short, but over a thousand of feet or so you drop off a ridge to the bottom of Dalton Canyon, and it is very steep, uneven, loose, rocky . . . you name it. I didn't even try to ride up it on my return leg.
One mile west of that descent, the jeep trail comes to Smith Creek and merges onto the Old Overland Trail. This part is wonderful. When I rode (mid-October) there was plenty of water in the creek. The waterbed for a mile or so is lined with Aspens and they were starting to turn fall colors. It was gorgeous, another world away from the miles of sagebrush and greasewood that prevails in this area.
If I'm not mistaken, this is the infamous "Quaking Aspen Bottom" of Pony Express lore. During the Paiute War of 1860, an Aspen grove near Smith Creek Station was known to the riders as a favorite ambush spot for the local Paitues. One rider was mortally wounded here, though he finished his ride to Cold Springs Station. (For those who want to read more about the Quaking Aspen Bottoms, they get a lot of print in Ralph Moody's Riders of the Pony Express).
Note, however, that I did not scout the remainder of this trail, from Basque Summit north down Edwards Creek or along Edwards Creek Valley to Eastgate. I believe Jan has previously ridden this section. And on the day I rode, I met two couples each in large 4x4 pickups who had driven up Edwards Creek, so I think it's reasonable to assume the road is open and passable. I just want to make clear that I cannot guarantee that claim based on my personal experience.
Smith Creek Station
Sadly, bypassing Smith Creek Ranch also means bypassing Smith Creek Station. It is reported to be the best preserved Pony Express station in Nevada, and is even being used by the ranch owners today (You can see it a the 5-minute mark on this video). Also, anyone who knows anything about Pony Express riders will tell you that Smith Creek Station was the where Pony Bob Halsam rested and turned around to ride back to Friday Station (at South Lake Tahoe) on his historic 380-mile run during the height of the Paiute War.
Smith Creek Hot Springs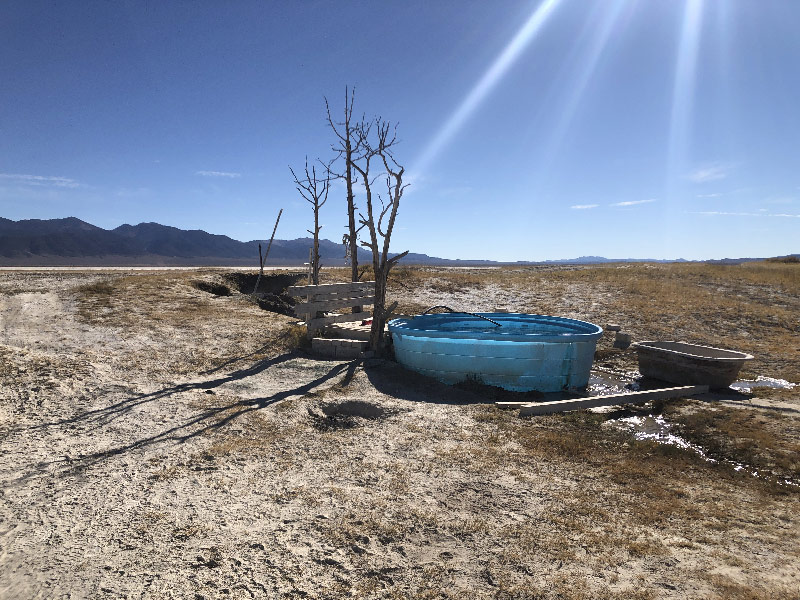 It's also worth noting that on the western edge of in Smith Creek Valley is the Smith Creek Hot Springs. These are natural hot springs with a tub set up to use, and is marked as a camping spot. At different times people have reported the area as being very unwelcome (lots of cow poop, a decaying carcass, etc.). When I was there (mid-October 2020), the area was very clean and inviting. I soaked my toes for a while, and would not have minded at all staying an afternoon or ever overnight. The only downside of visiting the hot springs was that the dirt driving to and away from them was incredibly deep and powdery. I have no idea whether my car would make it through, and had I known it was that deep and went on for that long, I wouldn't even have tried. There me be less powder earlier in the year, or approaching from the east. But if you visit, just know that it could be an issue. The hot springs are located here.