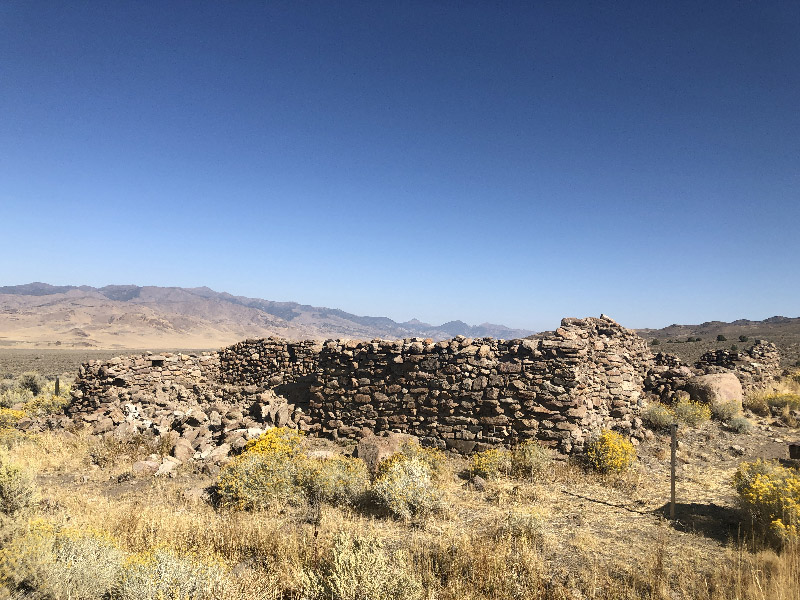 The ruins of Cold Springs Station are accessible from US 50 about 60 miles west of Austin, NV and 13 miles east of Middlegate. There are two locations marked "Cold Springs" along this route. The pullout/historical area, labelled "Cold Springs" and "Cold Springs Station Resort," which is a combination restaurant/motel/RV/Tent park. Access to the Pony Express station is from the former.
From the pullout (which has a toilet but no water), there is a trail that winds about a mile and a half toward the hills (that is, west toward the Desatoya Mountains). It's easy to follow, and is kind of a fun little trail for a mountain bike. The ruins are remainders of most of the walls of the buildings with interpretive signs placed about. Across the highway (on the north side) are remains of an Overland stage station (with an Overland Road marker), and just east are remains of a telegraph relay station. Everything is well-marked with explanatory signs.
Cold Springs Station is mostly mentioned in relation to Pony Bob Halsam. On Pony Bob Haslam's famous longest ride in Pony Express history, he stopped at Cold Springs to change horses, then went on east to Smith Creek Station. After sleeping for nine hours, he returned to Cold Springs and found it had been attacked by Indians. The station keeper had been killed and all the horses had been stolen. Pony Bob then watered his horse and headed to Sand Springs.
If you ride Highway 722 south out of Austin and cross the Desatoyas over Carroll Summit, you'll bypass this station. At the same time, if you follow the Old Overland Road from Austin and cross the Desatoyas by riding up Smith Creek and down Edwards Creek, and hope to make it to Middlegate for the night, you might decide a detour out to this station is just too much time and effort. If you drive this section, it would be a nice walk, or as I mentioned, a fun little bike ride. I did it on a whim and rode it in flip-flops without a helmet.
For reference, the station site is located here. I probably took more pictures than I needed to, but here they are.