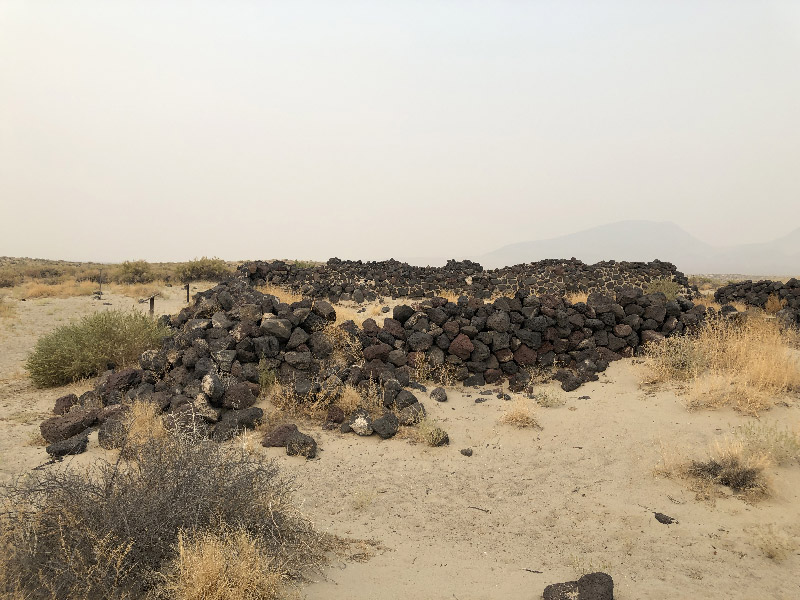 The ruins of Sand Springs Station are on the short road to Sand Mountain Recreation Area, a hugely popular off-road vehicle destination. The recreation area has an RV campground that, from a distance anyway, looked packed.
The turnoff to Sand Spring Station is about 8/10ths of a mile off US 50, and another 3/4 of a mile along a dirt road. Access is from the end of the turnaround in the road. As with Cold Springs Station, depending on when you come across this station in your ride, you may decide the detour is not worth the time or effort. Also similar to Cold Springs, the site is well-marked with interpretive signs. One thing I found particularly interesting was the site of wells, which Simpson's scout John Resse (for whom the Resse River and valley near Austin is named) had dug for the main party of the Simpson Expedition on their westbound route.
The XP Bikepacking Route current stays on US 50 along this stretch until Fallon, about 30 miles to the northwest, making this detour along the route. The original Pony Express Trail, however, heads west from this area through Simpson Pass toward Buckland Springs and the remains of Fort Churchill. Kurstin Gerard Graham (a member of the Bike the Pony Express Facebook group) scouted the XP Trail and posted a report and a couple of maps. The downside to Kurstin's route is that he cut across the playas in a couple of areas, and seemed to have a pretty hard time of it. Based on Kurstin's remarks, and on an American Discovery Trail map, I've laid out what I think is a viable trail following the XP Trail west. Realistically, I would think that turning north at Nevada Route 95 and going to Fallon for the night to rejoin the XP Bikepacking Route would be the best way to go (rather than keeping west to Fort Churchill). But that would still mean a 65+ mile ride (from Middlegate) and crossing three summits. In other words, a long day. My unscouted route between US 50 and Nevada 95 is here (mapped from west to east).