Took a ride the other day (December 10, 2020) to view the Pony Express Memorial in West Sacramento. Good thing too, as due to increased COVID restrictions, we're asked one again to lock down and shelter in place. Also, it's starting to rain.
West Sacramento is about 15 miles from my house. The route I now take is about half on dirt and gravel. It is a ride I would not wish on anyone, as three miles of it (over the Yolo Causeway) is hard by US 80, and the last few miles east of the causeway run through the West Sac industrial zone and carries heavy commercial traffic.
The monument itself sits on the west back of the Sacramento River in a revitalized waterfront area  dubbed "Riverwalk." It is just over the Tower Bridge from Old Town Sacramento (the western terminus of the Pony Express Bikepacking Route). Until I learned about this monument, I had no idea when the first bridge over the river was built. Even after reading the monument, I have to wonder if anyone ever called it the "Pony Express Bridge." XP riders used it a total of 20 times due to missing the riverboat connection to San Francisco. That hardly seems enough to dub it "Pony Express Bridge," but I haven't done the research. As it turns out, there are also the "Pony Express Bridges" near St. Joseph, Missouri, which makes a lot more sense.
The back of the monument of the gives the location of the bridge as being north of the I Street Bridge. That would place it near Discovery Park, which sits at the confluence of the American and Sacramento Rivers. Sutter's Fort is a couple of miles up the American, so it makes sense that there was a thoroughfare from there more or less straight to the bridge.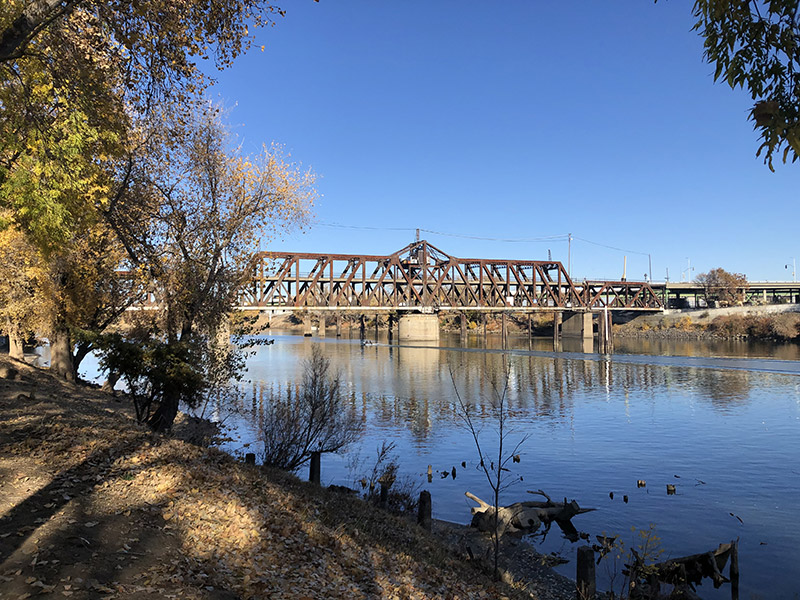 I don't know that I would suggest this is a "must see" for XP bikepackers. But if you do decide to visit, it is a short ride over the bridge and affords a nice view of the river.
More info at https://www.hmdb.org/m.asp?m=15708.