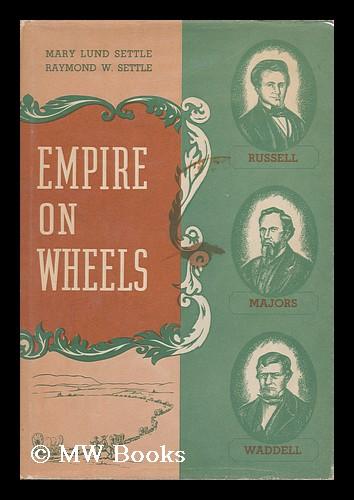 Raymond W. Settle and Mary Lund Settle, Empire on Wheels (Stanford University Press 1949)
Empire on Wheels, along with a couple of other books written by the Settles, is one that every author since seems to cite when writing about Russell, Majors & Waddell. The book relies on a lot of primary sources that earlier writers either didn't have access to or for other reasons didn't use.  As such, it is a great resource for a lot of the details that are glided over by other authors.
For example, rather than simply state that Majors & Russell [the name the firm contracted with the army under] claimed nearly $500,000 in losses during the winter of 1857, they summarize the bill of lading presented to the Army and reproduce the items (e.g., "Wagons destroyed enroute and left at Camp Scott for want of oxen to draw them: $48,260.00"). Another example is in a chapter entitled "How They Did It," which includes lengthy excerpts from Alexander Majors's "Rules and Regulations" for the movement and management of freight wagon trains ("When about corralling, caution your men against exciting the cattle, by hallooing and cracking whips at them. They should be so careful that a long, deep-toned 'whoa' wold stop their teams in the exact spot required.)
On the downside, I found they sometimes gave so much attention to the details supporting their assertions that they neglected the narrative. In that sense, the book seemed to lurch from fact to fact at time when some more exposition would have helped tie those facts into a more coherent bundle. Then again, that's largely what many subsequent writers who cite this book has done, so it's hardly enough to keep the book from being a necessary part of the Pony Express canon, as it were.