June 23, 2021
Douglas, WY to Casper, WY
60.4 miles/1,875 feet
Temp 94º/Winds 15-25 west
https://ridewithgps.com/trips/69860268
Wind—tyrant king of Wyoming. Wind-driven sand blasts the paint off buildings and gnaws out the softer layers of wood between the harder growth rings. For most houses on the exposed plains, a sheltering band of trees planted on the west side is as essential as a roof. Without the trees, you could lose the roof. Or your mind. The wind sculpts the trees into misshapen weathervanes, streaming east. Wyoming highway rest areas have wind shelters made of two high brick walls that join at a V, like a ship's prow. The V points west as predictably as a compass points north. The Wyoming tourist board is in denial. Come tourists, enjoy a picnic in our lovely highway rest areas. Just bring along some bolts to fasten your sandwiches to the table. Fifty-pound sandbags weight the bottoms of the rest-area trash cans. Without them, the big steel cans bounce away like Styrofoam cups. Forlorn cows endure a lifetime of wind, joylessly converting the sparse grass of the plains into meat until slaughter brings relief. Legends tell of people driven to murderous insanity by the wind.

Keith Heyer Meldahl, Hard Road West, p. 104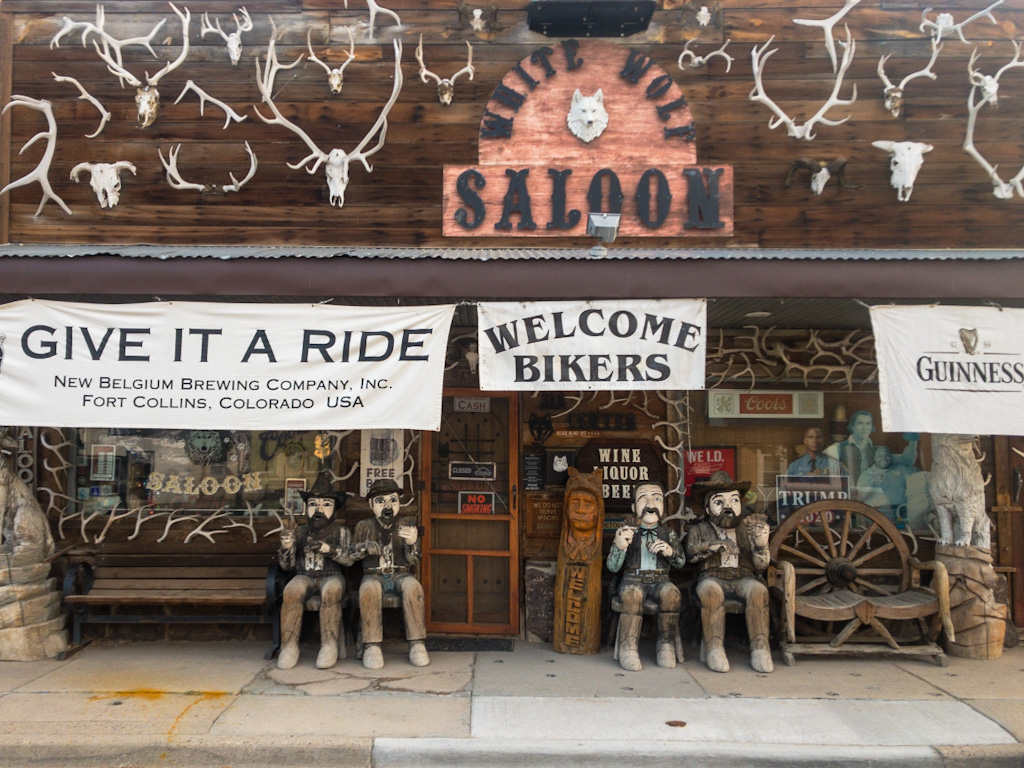 I can attest to the tyrannical nature of Wyoming wind. Today was the second day of headwinds and it tore at my nerves. It was a long day again, 60 miles. And I am now at 5,100' elevation. Both of which no doubt added to the strain of the ride. But still. I limped into Casper starting from about fifteen miles out and it shouldn't have been that hard. It wouldn't have been that hard, except for the incessant, gusting, pointless Wyoming headwind.
I was out the door by 6 this morning, hoping to beat the higher temperature, and praying that the wind forecast would turn out to be wrong. There is a 24-hour restaurant attached to the Prairie Motel where I stayed in Douglas, which is convenient, but it allows inside smoking and seemed ridiculously overpriced. So I opted for Egg McMuffins and coffee at McDonald's. By the time I rode there and ate and drank, it was about 6:45.
The first ten miles went north to historic Fort Fetterman. I don't know what it's historic for, but it wasn't the Pony Express, and anyway it wasn't yet open for visiting. These first miles were on nice pavement, with little traffic, and much to my surprise, normal hills. That is, hills where you ride up one side, go over a small pass, then down the other. Not the Wyoming Torture Chambers of endless climbs as on yesterday's ride. Plus the wind was still light. I found I didn't mind the climbs so much. They slowed me down of course, but they weren't punishing. I was able to coast down the backside when it suited me. What a concept!
Just after the fort the road crossed the North Platte River and I turned west onto Tank Farm Road. The bed of the road was gravel, and looked as if a water truck had preceded me, dampening the gravel to keep down the dust. Not a bad ride at all. A couple of miles on I crossed onto a ranch displaying a No Trespassing sign telling all travelers to stay on the county road (the one I was on) for the next five miles.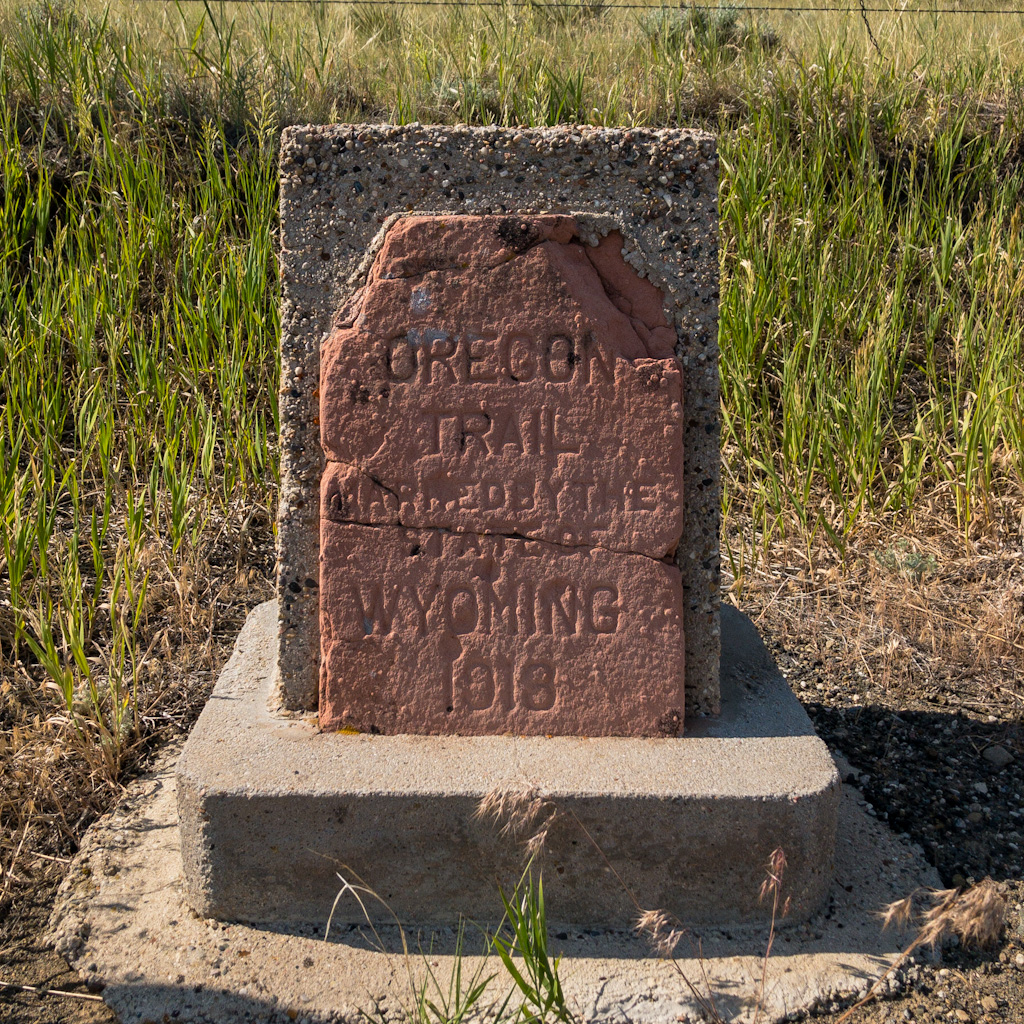 I should explain that my track today was, like yesterday, off the Pony Express Route because I was trying to cut my distance to Casper. Last night I had mapped out this route. It looked good on the screen. But about two miles into the "stay on the road for the next five miles" section, Ride With GPS wanted me to turn left. I stopped and weighed the alternatives. The left-turn was on to an overgrown two-track heading down to the northern bank of the North Platte River. Ranchers' main concern out here isn't cyclists, but hunters, so I probably could have taken that road and had a nice ride by the river. On the other hand, the sign was pretty clear; plus, the road I was on was in better condition. It might be a little longer, but would probably still be faster. The only issue was whether it connected further on. What a bummer to ride five or ten miles just to have to turn around.
It looked like a through-road, so I took it. It continued through the ranch land, a lovely, quiet area. I saw some jack rabbits scurry across the road. Also a number of antelope. I have been seeing antelope for the last few days (and forgetting to mention them—sorry), but there were a lot more out here. They tend to stare at me for a few moments, then bound away, their their furry white butts bouncing over the grasslands. It's quite a sight.
[T]he antelope is equipped with a signal system which enables it to communicate danger at great distances. This is the white patch on the rump, lighter in color than the body. When frightened or interested in anything unusual the antelope contracts its muscles and the patch becomes a flare of white. . .
Yeah it does. Also, fun fact:
[T]he antelope, like all Plains animals, possesses a great vitality. Dodge says that "antelope will carry off more lead in proportion to their size than any other animal."

Walter Prescott Webb, The Great Plains, p. 35, 36
While we're on the subject of filling antelope with lead, I'd like to take a minute to talk about those two great American pastimes: hunting and fishing. Personally, I've never been fond of either. I've never gone hunting. And whatever fantasy I might ever had held about fishing was drummed out of me by the sight of Captain "Bone in her teeth'" Don trying to kill a mahi-mahi he had landed in the Sea of Cortes by beating the crap out of it with a winch handle while it bled all over the cockpit of our boat.
Despite my personal feelings, hunting was a huge part of the mythos of the westward emigration. In point of fact, most emigrants weren't at all familiar with using firearms, and as a result, accidental death by gunshot was the third largest cause of death for the emigrants:
Disease was far and away the number one killer, accounting for nine out of every ten deaths. Although the emigrant was never completely safe from the scourge of epidemic disease, the initial portion of the trail to Fort Laramie, otherwise the easiest segment of the journey, occasioned the most disease-induced deaths. . . . Diarrhea, tuberculosis, smallpox, mumps, and a host of other illnesses downed travelers, but the chief afflictions were cholera, mountain fever, and scurvy. . . .

[C]arelessness was second only to disease as a hazard of cross-country travel. . . . One of the most unexpected facets of the 'overland' journey was that death by water claimed almost as many victims during the antebellum era as did the much-feared Indians—perhaps as many as 300, at least 90 in 1850 alone. . . .

After drownings the commonest cause of fatal accidents was careless handling of the fantastic arsenal of firearms the overlanders carried with with them.

John D. Unruh, Jr., The Plains Across, p. 408-410
For most of the emigrant men, it seems there was no point to hunting other than the sheer maleness of it.
Hunting has continually recurred as a theme in these pages because of the importance it assumed for emigrant men. It was in this context of male fantasy and the measurement of masculine identity against the standard of earlier, heroic generation of men that hunting took on its meaning. At home the rifle had retained its symbolic if not practical place as the key instrument of male activity. As such, the rifle was the object around which men organized their conception of the trip. By insisting that their rifles would again become the means of securing nourishment for their families, men allowed their own projections to set the form and the content of the journey. Matthew Field captured something of this with a description of the emigrants passing through Westport, men to the front, "rifles on their shoulders, … looking as if they were already watching around the corners of the streets for game." Hunting, of course, supplied very little of the actual nourishment for the overland travelers, and experienced observers, from the beginning, advised against wasting valuable time on the hunt. But the men nonetheless insisted on approaching the trip as at least a hunting expedition.

John Mack Faragher, Women & Men on the Overland Trail, p. 136
I've been thinking about this the entire trip. Everywhere in Kansas, it seemed, were posted signs, "Walk in hunting only." Everywhere. Along the North Platte River, wherever there is access to water, there is a symbol showing access to fishing. I have good friends who fish, some obsessively. It's not something I condemn, or look down on. It's just that seeing so many references to hunting and fishing out on the road these past few weeks makes me feel somehow out of place. Or as Walter would say to Donny (The Big Lebowski), "You're out of your element!"
At about thirty-five miles into the ride I came to Glenrock, the town that grew up where Deer Creek Station stood. I took a picture of the Deer Creek Station memorial and went looking for Second Breakfast. Nothing open, so I went to the grocery store and loaded up on fluids and a donut and breakfast burrito to go.
From there I went to the post office and dashed off a quick postcard to Kazu and Lisa telling them I wish I were spending this day (my birthday) with them . . . As if I had someone else to blame. While I was walking out of the post office, a young woman was as well, and she held the door for me. She saw my shirt and told me she'd just ridden in the Pony Express re-ride, which went through that area the night before. I was surprised, because she was in her twenties and thin and quite attractive, whereas every picture I've seen of the re-ride features a overweight, white, middle-aged man or woman sitting on a horse (or "sitting a horse," as the saying goes) wearing a Pony-Express standard-issue red shirt and leather vest. Not to be rude.
[Have I explained that I had a tough ride today?]
Back out on the road, and by this time the wind was building. It was directly from the west at about 15 mph; I was riding directly west, and I had twenty-five miles to go. I've said this before, but it bears repeating: when you've got a headwind, there's nothing to do but put your head down and tough it out. There's just no way to make it pleasant. Aside from being physically draining, this kind of riding sucks the life out of the ride itself—the joy of it, the essence of what causes you to want to ride in the first place—because you are looking down, not up, focusing on the task at hand rather than taking in the scenery; fighting instead of flowing.
The closer I came to Casper, the more the wind built, until the gusts, again, were well over 20 mph. The road was hilly: benign hills, not endless, malicious climbs, but they still wore me down, and like yesterday, I had to pedal to get downhill. I had fewer feet to climb today than yesterday, a third less elevation gain, and that's fortunate because otherwise I might still be out there.
Finally, finally, I got to the outskirts of Casper. For the past few days I've been holding something of a romantic notion of Casper, Wyoming. I planned to spend a few days here, and in that sense, I saw it as a city of refuge. I pictured it all small-town charm, walkable, friendly. In the back of my mind I even imagined whispering the incantation, "Thelassa, thelassa." ("The sea, the sea!")
But the Casper I saw was all industrial, ragged, truck depots and refineries. The road into town from the east, which had been a highway, downgraded itself to a narrow four-lane with narrow shoulders, like Scottsbluff, and was equally antipathetic to bicycles. Further on, but still at the edge of town, was a bike path of sorts. It looked like a trails-to-rails conversion, elevated like train tracks would have been. It was unpaved, unevenly graded, and had hoof prints, I assumed from the Pony Express re-ride which passed in the other direction the day before. A couple of miles further the bike path dead-ended abruptly, despite the markings on the map, falling victim to off-ramp construction for a freeway running through the middle of town. So I left the path and rode against traffic for a short time, on the inside of traffic cones, which was the safest part of the road. Nevertheless, some yahoo in a pickup yelled at me for doing so, even though he had to do it across two lanes of traffic and he wasn't impacted in any way. Not the first time that has happened, but it was still annoying.
All the time the sky threatened rain. It was hot outside, and muggy. And, of course, windy, the wind still blowing in my face. I made it across town, and found I was ninety minutes early to check in. I did some searching and ended up in downtown Casper (where, like Seneca, KS, they play music over speakers along the Main Street) at a coffee house called Bourgeois Pig. The guy behind the counter asked about my bike, so I explained my ride, and he went off on the most bizarre mistelling of American history I've ever heard. While I sipped an Americano and ate a very delicious blueberry lavender scone, he went on at length about Alexander Frémont being called the pathfinder because he led emigrants to the west, then how Frémont issued an Emancipation Proclamation in Missouri before Lincoln issued his national proclamation, and Lincoln wanted Frémont to rescind his and sent an agent to tell Frémont he was fired, but the agent didn't know the password and couldn't get through the lines, so he dressed up like a woman, then got through; but when Frémont asked how he got through, the agent told him, so Frémont had him locked up as a spy, more so he could get his friends in Congress to help him not lose his job, which I think was governor of Missouri. 
Needless to say, none of this is true (starting with Frémont's Christian name, which is John), but it was entertaining as hell. He went on in this vein as long as I sat there, on a range of subjects. Every time he opened his mouth it was a tour de force of gibberish. I wish I could have recorded him.
I finally made it to the hotel. I've checked into a place a step or two up from the places I've been staying. I'm glad I did, because as I passed all the cheaper motels I'd considered, I saw they were all, well, in the cheaper, noisier, busier sections of town. Closer to more restaurants maybe, but not attractive at all. And after all, it is my birthday.
I plan to spend the next few days regrouping and reassessing the rest of the route, especially in light of the image of V-shaped walls pointed west to protect against the wind I will be riding into. I will probably continue to blog, but will say something if I decide to take time off . . . Or if I run out of things to say.