Horton, KS to Seneca, KS
43.5 miles
2,330 ft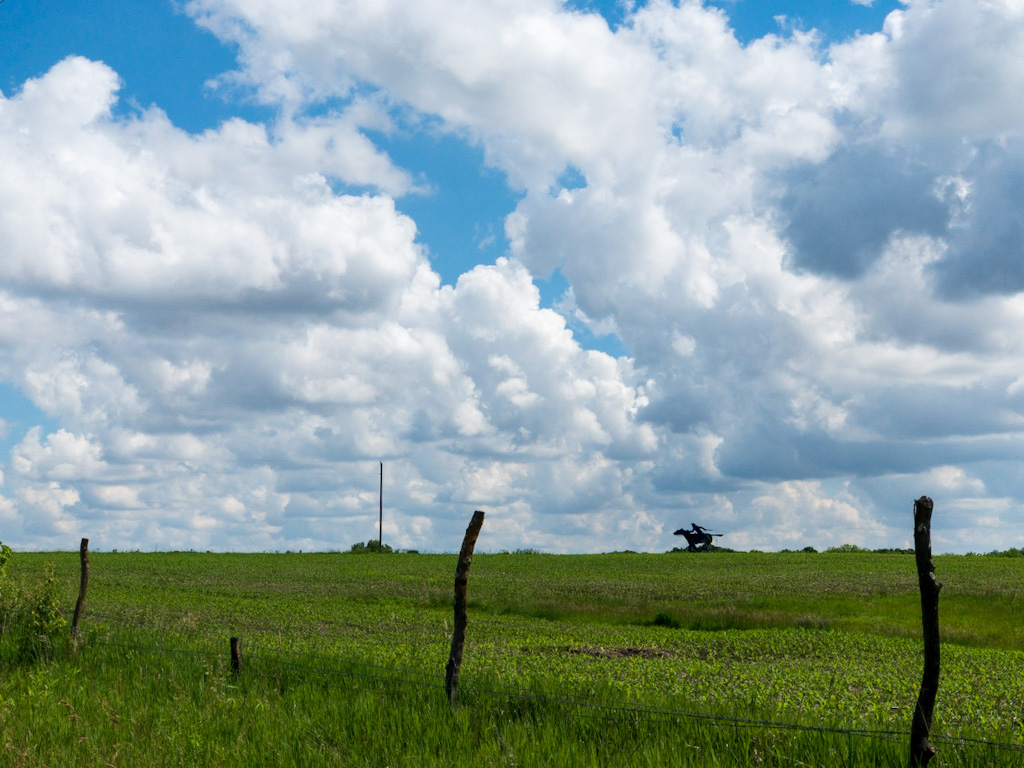 Today didn't start well. Mostly, as it was first night camping, I didn't sleep well, so I slept in later than I had wanted, then took all kinds of time to pack up to go.
I saw Mike, the caretaker, on my way out. "Look me up if you come by here again," he said. "I may not be here, but look me up anyway,"
Someone from a radio station in Hiawatha had heard about my ride and wanted to do a phone interview at 9:30. So I had planned to be packed, full of good fixins from Grandma's Depot in Horton, do the interview (which fell through), and still be on the road by 10.
I was worried about the weather, because the morning was absolutely clear and 70 degrees by 9am. Now, in Davisville, that is the kiss of death, because you know it'll be 100 by 4pm on a morning like that. Nevertheless, I had to eat, so I went to the restaurant.
The waitress, Lorelei, was very nice but a little slow. She'd bring one thing at a time. It was a small place, there was only one other customer, but still she was in no hurry. Neither was the cook. Lorelei told me I had beautiful eyes, and I'm a sucker for that kind of thing, so I was inclined not to get upset at the delay. But God help them if they ever have a rush.
Speaking of God, someone had wandered in and felt the need to testify about Revelations at Grandma and whoever else happened to be sitting with her (maybe the cook?).  He had specific numbers of people who'd be taken in the first rapture, who'd be left. He somehow equated aliens with the devil, but by that time my breakfast had arrived.
I had a plate-sized pancake and two eggs, and the only reason I'm bothering to report this is because I'm sure they were both cooked in something banned in the state of California. I could not place the flavor, but neither did I ask. The crazy thing is that breakfast and coffee came to under $5. Even leaving a 40% tip (see the comment above about the eyes), I got out of there for about the price of a latte.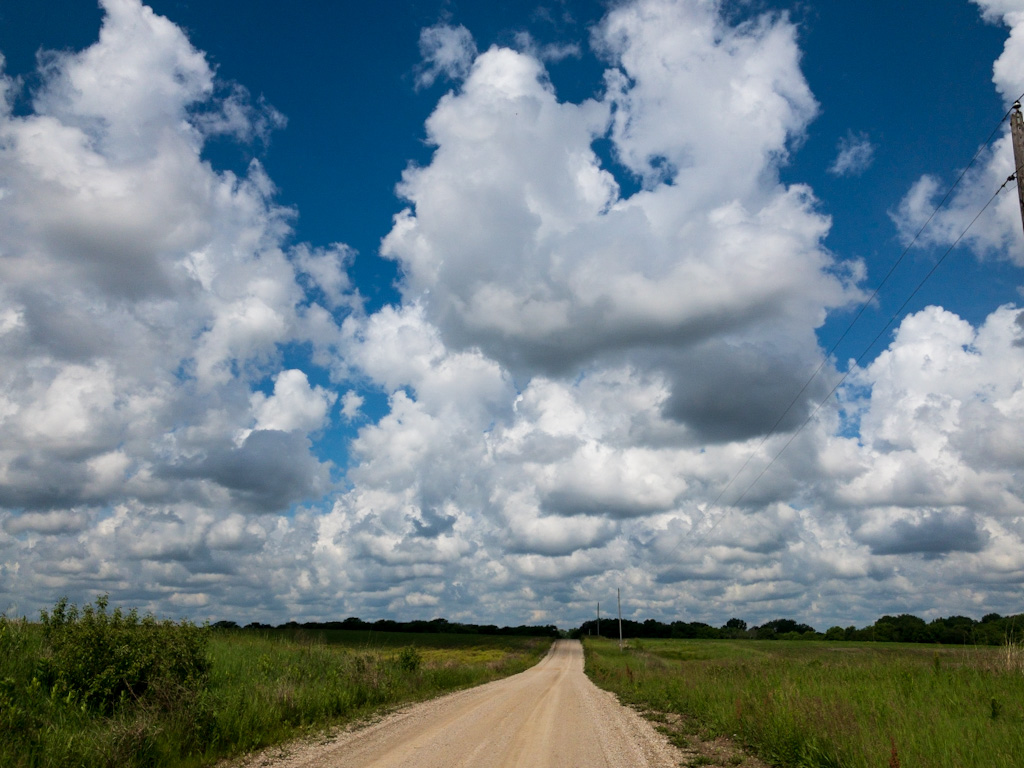 And here's the really cool part: when I came out of the restaurant, the sky was blanketed in fair-weather cumulus. Most of the morning I had wonderfully cool temps. Even when the clouds cleared out a little in the afternoon, it never got much above 80 degrees. Warm, but not Yolo-County warm.
So it was back on the road, and yes, the hill country continued. I was a little smarter about the mud. The first gravel road I was on turned to dirt at an intersection, and while it looked dry . . . No. I turned right to stay on a gravel road and beelined for the paved highway. Some miles later I had no choice, other than a long backtrack, but to take some dirt roads. Happily, they held, but the sunken tire marks made me think they would not have been rideable yesterday.
One good thing about the rain though: It tamped down the dust on the gravel roads, making them more enjoyable than they would otherwise be. Mostly. On some stretches it looked like road maintenance consisted of driving with a dump truck about 40mph down the road and tilting the bed back. It was just piled on the road. I had originally thought I could get away with lighter-weight tires on this part of the trip, but I don't think so now. I was really glad for big knobbies, and the Mr. Tuffys in the trailer wheel.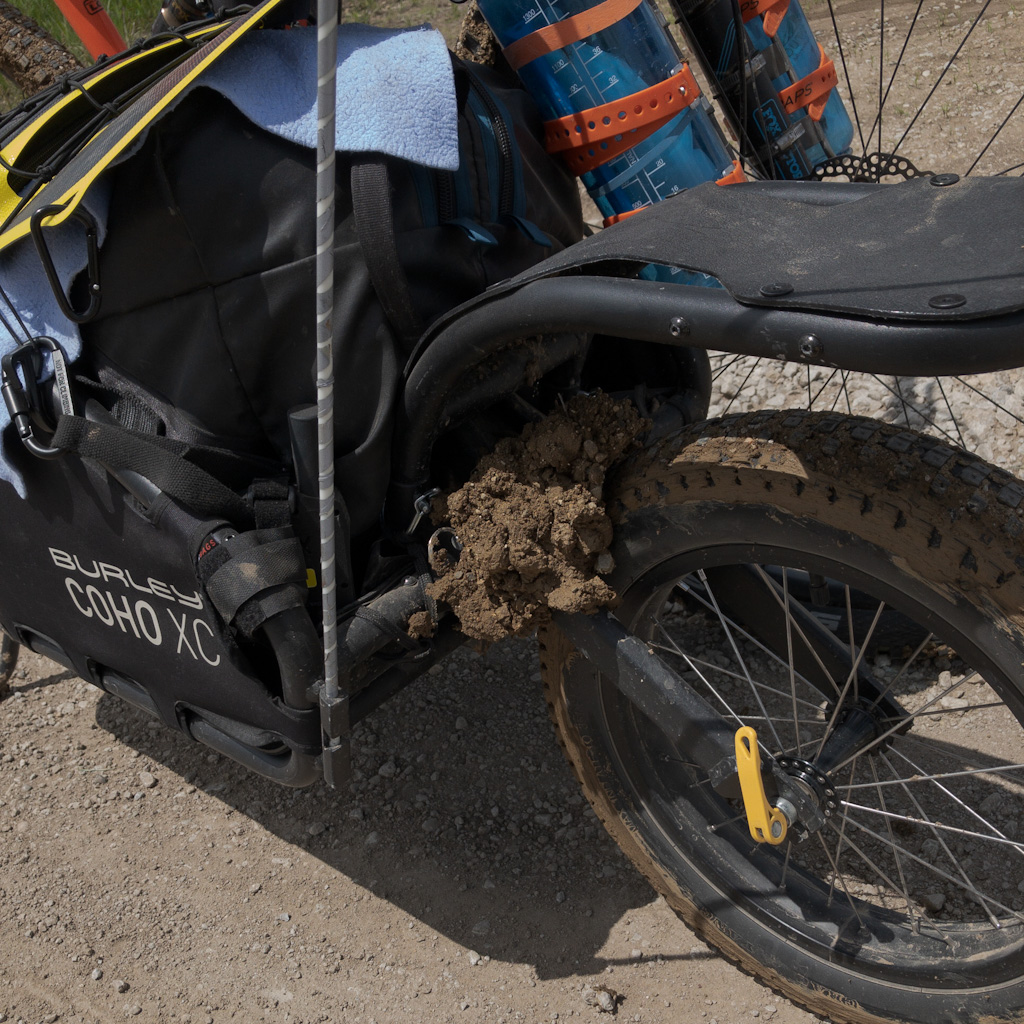 Sadly, I did hit one unavoidable patch of Kansas glue-dirt. It was a ten-foot strip at the bottom of a hill. No where to go. I powered through and was able to keep peddling to the gravel crossroad at the top. It was like riding uphill with the brake on, but I was not going to carry everything again if I could help it. No rescuer this time. I had to use my hands and the end of my trailer flagpole to dig the mud far enough away from the tires to ride. From that point on, I stuck to gravel and pavement all the way to Seneca.
Coming into town on the red brick Main Street, I heard music: "Venus" (by Shocking Blue, not Bananarama). There was a theater nearby with a Miami Vice-style marquee (turquoise and coral), so I thought it was coming from there. But as I cruised through town, I heard the music everywhere. Next was "Fame" by David Bowie, then another tune I forget now. It just seemed so incongruous to hear these tunes piped in and playing all along a street that is so old it's made from brick and is bordered on both sides by buildings from the 1800s.
I passed two Pony Express station sites today (Kickapoo and Log Chain), but neither had any landmark, sign, or monument. Kind of a let down. Seneca, where I'm staying, has a couple, as well as a Pony Express museum. It has limited hours, so I may have to miss that diversion.
The camp I'm staying at, Bailey's RV Park, is a little east of  town. I was so incredibly happy to find they have water, showers, electricity, and washing machines. And I cannot believe I just wrote that sentence.