Pony Express Ride is an online scrapbook of sorts about my preparations and ride on the Pony Express Bikepacking Route in summer 2021. The route runs more than 2,000 miles, from St. Joseph, MO to Sacramento, CA, mostly on dirt and gravel roads over rocky, sandy, and overgrown trails, through alkali lake beds, across open desert, and along alpine singletrack.
The site includes:
There are also links to other sources, and more. The information is available for anyone to use or enjoy, but it is not meant to be the definitive source of info about the Pony Express Bikepacking Route. If you're looking for the experts, go to the Online Sources page for links to other sources for route information.
If you have questions, or even better, suggestions for more information you think might be useful to assemble here, please get in touch with me via email or in comments to posts.
ST. JOSEPH TO
SALT LAKE CITY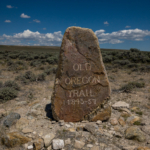 Daily journal entries from my ride on the Pony Express Bikepacking Route from St. Joseph, Missouri to Salt Lake City, Utah from June 1 to July 12, 2021.