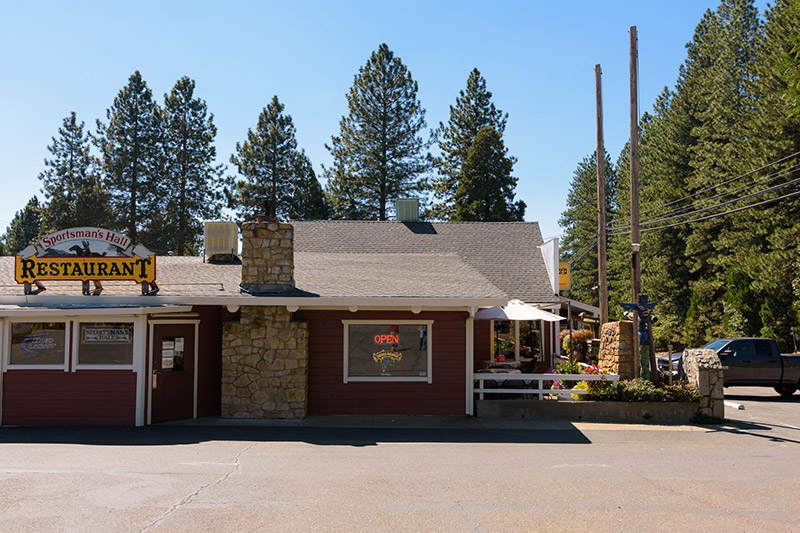 "Sportsman's Hall was California's only Home Station. It was frequently called the Twelve Mile House and sometimes simply referred to as 'The Hall.' It was opened in 1852 by Scotland immigrants John and James Blair. Sportsmans Hall was one of the most popular and most important places on the trail. No other inn approached its size or the quality of its accommodations. . . Originally it was a hotel, restaurant, and a stage stop that could accommodate 500 horses, with extensive corrals. It has burned to the ground and been rebuilt twice. Part of the original structure still exists, and if you look carefully, you will see the beams, hand hewed, that hold the roof up."
"A number of sources list Sportsman's Hall as a station, which also appeared on a contract station. Herbert Ralph Cross identifies Sportsman's Hall as a "rider relay" or home station, fifty-six miles from Sacramento and twelve miles east of Placerville. A California Registered Historical Landmark's plaque at the site reads:
This was the site of Sportsman's Hall, also known as the Twelve-Mile House. The hotel operated in the late 1850's and 1860's by John and James Blair. A stopping place for stages and teams of the Comstock, it became a relay station of the central overland Pony Express. Here, at 7:40 a.m., April 4, 1860, Pony rider William (Sam) Hamilton, riding in from Placerville, handed the Express mail to Warren Upson who, two minutes later, sped on his way eastward.
– From the Pony Express Bikepacking Route info marker, citing the Pony Express Historic Resource Study