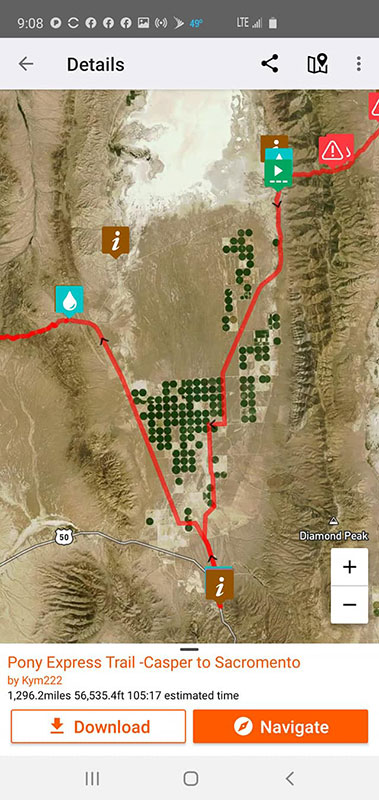 Just before Mile 1738, the Pony Express trail veers to the right from the road. The Pony Express Bikehiking Trail map deviates from the original route. This adds approximately 35 miles to the route. Following is Jan's explanation:
"The pass that you will cross before Eureka is difficult. Do not underestimate the time it will take for you to make it to the top, and then the technical nature of the descent on the back side.
[And to reiterate]
Once you leave Salt Lake City there is no food resupply directly along the route until you hit Austin, NV, nearly 400 miles away.
While I was at the Bikepacking Summit in Gunnison, CO a few years ago I ran this section by a number of exceptionally experienced bikepackers and the consensus was to simply make it a part of the route. If folks wanted to bypass it, that was up to them. Because of the remoteness of this section all felt that it was prudent to direct folks to resupply and let them make the decisions themselves if they wanted to continue along the original route instead.
Also, please note that the stations that are marked are historical stations. They are not manned stations in any way. There are no supplies available. Many times all you will find is a marker and some ruins. Little more.
Simply put, if you are of the opinion that you can haul enough food to make it 400 miles across the desert then these route deviations are not necessary. Your daily mileage and comfort level will dictate this.
I would encourage you to take into consideration your daily mileages on a fully loaded bike, at elevation, in an extremely arid environment. Especially in the middle of the summer. I definitely don't want to sound alarmist, but this area of the country is not an area to take lightly.