Ralph Moody, Stagecoach West (Promontory Press 1967)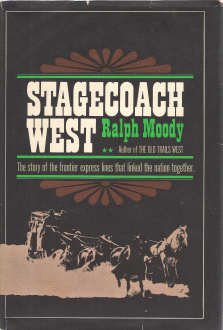 I think I picked this book up at a Friends of the Library sale. Great book. Incredibly detailed. I've read it twice now. As the title suggests, this is a comprehensive history of stagecoach lines west of the Missouri, which includes mail routes and freight-hauling outfits as well (as all were intertwined in the early days). As such, there is only one chapter directly about the Pony Express, and that is largely devoted to the financial wheeling and dealing of one of the directors (William Russell) which ultimately landed him in jail for a brief time and bankrupted him and his two Pony Express partners.
Aside from that, the author's loving descriptions in the beginning of the book of (1) the craftsmanship that went into building Concord coaches and (2) his play-byplay description of the New England stagecoach drivers' ultra-refined method of driving a six-horse team alone make the book worth reading. "The New England reinsman who was considered worthy of the name had to be able to manipulate all six reins simultaneously, each one absolutely independent of the others, and with the same dexterity and apparent effortlessness with which a great piano pianist plays a Bach concerto." Who knew?