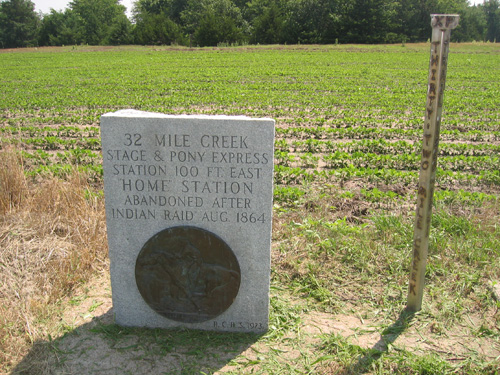 This location is almost exactly in the center of Adams County and the Thirty-Two Mile Creek Station name indicates the distance to Ft. Kearny. Russell, Majors, and Waddell formed the Leavenworth and Pikes Peak Express company in 1859 and most likely constructed the Thirty-Two Mile Station that year. Samuel Word kept a diary of his 1863 trip across the plains and the following words are from May 28: "We are now 32 miles from Fort Kearny. Am most anxious to reach Kearny for I expect to hear from home. Have just returned from a ranch close by, where immigrants and settlers to the number of 100 are congregated engaged in a genuine old-fashioned back woods dance. . . . The ranche was about 12 by 14 feet square covered with sod. . . . The house had what it would hold, the rest stood outside. . .many of the men were drunk from rifle whisky sold them by the proprietor of the ranche. His grocery was in one corner of the room. I left them dancing." (Word in Renschler, 1997)
Ted Stutheit (1987) of Nebraska Game and Parks offers the following description: ". . . consisted of one long, low sod building. In 1860 became a Pony Express Station (Nebraska Pony Express Station No. 10). In 1861 it was a 'Home' station for the Overland Stage where hot meals were served to travelers."
===========
"Thirty-Two Mile Station" is the site of another of the series of way-stations established during 1858 and 1859 along the Oregon Trail to serve the growing numbers of stagecoaches and freighter wagons which were joining the emigrant trains along the great roadway west. Named for its distance from Fort Kearny, Thirty-Two Mile Station never consisted of more than one long, low log-building In 1860 it became a Pony Express Station (Nebraska Pony Express Station No. 10). In 1861 it was a "Home" station for the Overland Stage, where hot meals were served to travelers. The station operated by George A. Comstock was abandoned in August of 1864, its proprietors and visitors fleeing to Fort Kearny for safety, and the Indians subsequently burned the station to the ground. 32 Mile Station, site of Pony Express Station (Nebraska No. 10 — Sec. 6, T.6N, R.10W — Adams County) is now in the middle of a plowed field, just off a county road A small marker at the side of the field commemorates the site. This site is on the National Register of Historic Places as an archeological site.
—The Oregon Trail, Rock Creek Station, Nebraska to Fort Laramie, Wyoming, p. 5
=========
The location is marked on the XP Bikepacking Route map just before Mile 290.