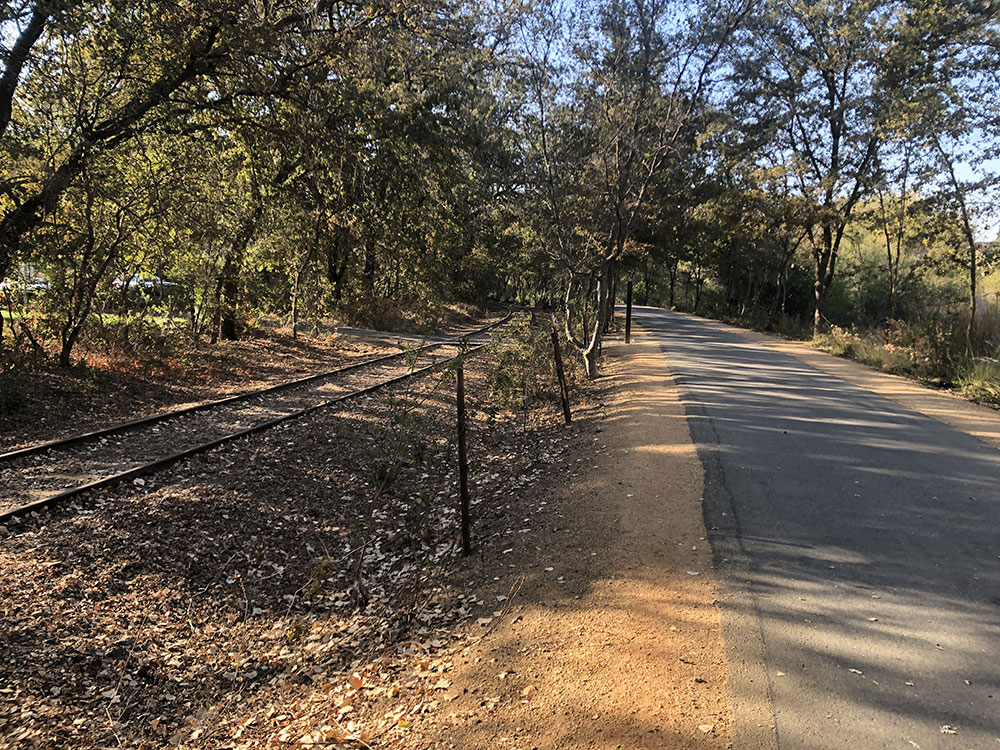 Last July (2020), I scouted two routes between Cameron Park (actually, from Shingle Springs, a little to the east) and Folsom. The ride report is here. Based on that trip, I made some recommendations to Jan and the good people at Bikepacking Routes.
Subsequently, Jan took another look at this stretch and asked if I'd do some additional scouting of a possible alternate to her route and my suggestions (starting from around Mile 2169 on the XP Bike Packing Route). In the meantime, a promising road through this area opened up. It had always been there, but not appropriate to make part of the route due to posted No Trespassing signs. But while planning the ride, I noticed that the heatmap in Ride With GPS showed a lot of traffic along this road. I checked with the the local bike club (Cycle Folsom), and they confirmed that the road was open. So early in November, I drove out to scout some of the alternates through this area.
Cameron Park to Bass Lake Road
The problem with getting from Cameron Park to Folsom is that the El Dorado Hills are in between. EDH is an old area, but in the last twenty years or so, it has seen an explosion in development. Mostly these are housing developments, and most of these (if not all!) are gated communities. So while it looks like there are multiple ways to get through this area, really your options are fairly limited.
I tried two different routes, both starting from the library on Country Club Road: one went up Hollow Oak Drive to Bass Lake Road, and then to Serrano Parkway; a second along Old Bass Lake Road/Tong Road, which stayed closer to US 50, and ended up on Serrano Parkway further west. Jan had mapped out the Hollow Oak route before we learned that a road nearer to US 50, Old Bass Lake Road/Tong Road, might be open to bike traffic.
The Hollow Oak Drive route works fine, but it's more climbing and is more exposed than the Tong Road route. The only real plus in its favor is that there is a shopping area at the intersection of Bass Lake Road and Serrano Parkway. So if you need some supplies or a frozen yogurt break, then you might want to take it. From here, you ride over a hill that eventually drops you at El Dorado Hills Boulevard. A map of this short section is here.
Alternately, if you stay on Country Club Road, you can cross Bass Lake Road onto Old Bass Lake Road, which turns into Tong Road. This route has less climbing and is less exposed than the Hollow Oak route. Plus, it is virtually car-free west of Bass Lake Road, which is always a plus. What's interesting, though, is that Country Club Road has been realigned, and the new alignment isn't reflected in Google maps (or Ride  with GPS, which is based on Gmaps). Country Club used to run close to US 50; now it turns up and follows the old course of City Lights Drive. At the same time, Old Bass Lake Road, which runs west of Bass  Lake Road, has also been realigned. So if you look at a map, it appears as if your take Country Club to Bass Lake Road, have to turn north (uphill) for a quarter mile or so, then turn on to Old Bass Lake Road. In reality, Country Club Road continues straight across Bass Lake Road to continue onto Old Bass Lake Road. Which makes it a much easier connection for riders. A map of this section is here. Note that the course line west of Bass Lake Road seems to be cross-country. There's now a road there. Trust me, I rode on it both ways.
At the west end of Tong Road, you reach Silva Valley Parkway. Between Silva Valley Parkway and the next large intersection, El Dorado Hills Boulevard, there is a large hill capped by—you guessed it—a gated community. You have three options at this point: riding north to Serrano Parkway; going around to the south between the community and US 50; or riding into the community and finding a trail that goes around the locked gate at the far end.
Silva Valley Parkway to El Dorado Hills Boulevard
If you ride the Hollow Oak route, you just stay on Serrano Parkway all the way to El Dorado Hills Boulevard. If you ride the Tong Road route, you end up at the same place, but you have a number of routes to choose from to get from Siva Valley Parkway to EDH Boulevard.
You could just turn up Silva Valley Parkway and ride to Serrano Parkway, where you'd turn left, merging with the Hollow Oak route. But that's all pavement and boring. To get to all your other options, you have to cross Silva Valley Parkway. Traffic moves very fast here, especially coming down the hill from Serrano Parkway, so be careful. Once across, you could turn south and continue on Clarksville Crossing and go see the Mormon Tavern Pony Express monument. If you're going to continue west, you need to jump the curb and take a short downhill dirt road to the Serrano Parkway Trail. At the bottom is where you make your choice:
Buck's Creek Trail (which runs north, parallel to Silva Valley Parkway) to Serrano Parkway. This is the longest, but most pleasant route, and the one I'd recommend. A map of it is here.
Stay left at the bottom, look for a singletrack, and follow it as it winds toward US 50. This eventually meets up with a wide, graded dirt road, which in turn eventually takes you to Serrano Parkway near the bottom of the hill.
Take the gravel road up the hill toward the gated community. There is open access at the top of this grade. Once on pavement, you have two options: take the pavement to the park, and drop onto a trail from the park, which in turn hits the graded dirt road; or, stay until almost the bottom of the hill, and turn off to a trail a little before the locked gate. This trail takes you to the same place as the graded dirt road.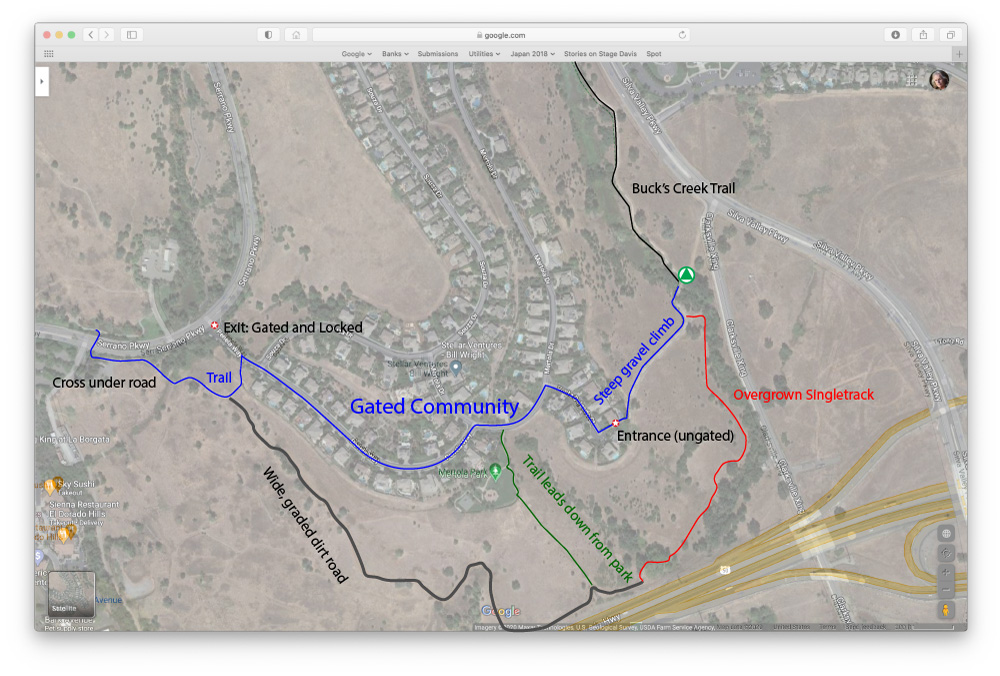 I've mapped these options (image to the left), all of which work, though I don't know how long the dirt road between the community and US 50 will be rideable. Construction is rampant here, and my guess is pretty soon there will be a new gated community blocking this passage soon.
Silva Valley Parkway to Folsom
No matter which of the routes you've taken from Cameron Park, they are all on the same track by the time you reach El Dorado Hills Boulevard. From here, you ride on yet another newly paved and widened road with a decent shoulder (Saratoga Way) to Empire Ranch Road, and from there, get on the Folsom bike paths. If you've made it through El Dorado Hills without having to detour around a gated community, congratulate yourself. It's no mean feat.
From here, you follow lovely Class 1 bike paths all the way to Old Town Folsom. Or, if you're skipping Folsom, ride the paths to the American River Parkway, also a Class 1 separated bike path, and make your way to Old Town Sacramento. It may be faster to ride the streets through Folsom, and most streets have good bike lanes. But the bike paths are nicely paved, shaded, and have water and sometimes restrooms available. They are a much more relaxing alternative. A map of the bike paths through Folsom is here.