June 6, 2021
Hebron, NE to Edgar, NE
40 miles/1,447 feet
90s/20-25 mph
https://ridewithgps.com/trips/68734668
Windy, windy day today. My friend, Don Ross, with whom I sailed back and forth between Southern California and Mexico a couple of times, had this saying whenever the breeze got up around 20 knots or more: "The wind's got a bone in her teeth today." The wind was in the twenties all day, and I kept thinking about the bone clamped between her teeth.
Before heading out, I took a turn through Hebron to see the world's largest porch swing and drop another card to Kazu and Lisa. (I'm like the anti-Pony Express: Instead of delivering mail clear across the country, I drop postcards from all the little towns I stay in.) I stopped in a convenience store to grab some donuts for the road. Every customer was white, male, 30s, and grasping a slice or two of convenience store pizza in one hand and one or more bottles of energy drink in the other. And wearing a baseball cap. I had thought about grabbing a microwave burrito or something there, because there are no breakfast restaurants in town, but I was able to cook some oatmeal in the motel's grill area. Good thing! Donuts were bad enough. But pizza?
I had gone off-course from Jan's Pony Express Bikepacking Route to stay in Hebron the night before. Jan's route turns north a mile or so east of Hebron to avoid Highway 81. I had a choice of backtracking or sucking it up and riding the highway to get back to the Pony Express Bikepacking route. I knew I'd have a strong tailwind, which would be a nasty crosswind if I backtracked, so I just rode the highway a
Speaking of the highway, this seems like a good time to talk about midwestern  drivers.
The highway was a four-lane interstate, two-lanes in each direction, with a median and a six-foot shoulder. Nearly every car and truck that passed me, even the semis, moved over to the center lane to leave a lane between me and them. In a similar manner, Kansas and Nebraska drivers always move over and have regularly slowed, rather than pass me, on a two-lane road or highway when we neared near top of a hill with limited visibility. They have been, in a word, cautious and courteous.
But, as polite as Nebraska drivers are, they seem to have no concept of the amount of dust their vehicles kick up. I am on gravel and dirt roads nearly all the time and find myself smothered in trailing gravel-road dust every time I get passed from front or behind. The nice Nebraska drivers move all the way over and smile and wave (the Nebraska wave: lifting one finger off the wheel), but they don't slow down at all, and as a result, I get thoroughly dusted. Eyes, mouth, a new layer glued to my skin by sunblock . . .  Every time! My theory is that they live in so much dust they don't even notice. Still, I would hope that at least some of them look in their rear view mirror and wonder where I disappeared to and put two and two together.
And while we're on the subject of gravel roads, Nebraska gravel is a bummer. Kansas had real gravel, dirt, and, when wet, glue-clay (Kansas Mutant Mud) roads. Nebraska roads are mostly decomposed granite, or some similar composition, which is fine when compact but not when the loose stuff floats on top. In the deeper sections it's like trying to ride through a river bed, with the river still in it. Very slow. The areas where the loose stuff is piled deeper grab at your tires. It would be easy to dig a front tire in and spill over. I am constantly shifting across the entire road to find the bald spots to roll through.
Where was I? Right. The Day-Six ride, Hebron to Edgar, NE.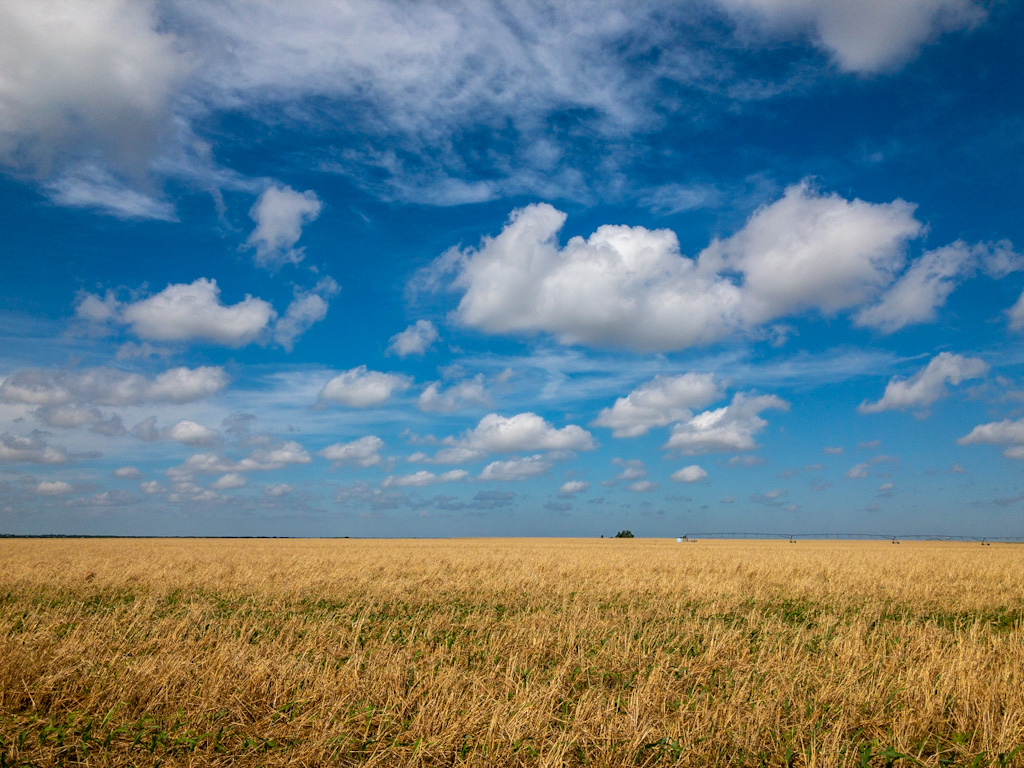 After I turned west, Nebraska finally started acting like the Midwest state it's supposed to be. Miles of corn, wide-open views. There were still hills, and many of those were steeper than they needed to be, but the land started to stretch out the way we who do not live here picture it.
The ride itself was largely uneventful, except for a few small things. First, I lost my Pony Express flag. I'm sure it was on one of the upwind legs into the gale-force winds. Sucked it right off the top of the pole. That was a bummer. Also, at different points in my ride a couple of farmers stopped on the road to talk to me, which was nice. The just rolled up to me and stopped in the middle of the road to chat as if we were passing each other on a sidewalk. At least they didn't dust me.
The only town I passed through was Oak, NE, which seemed to have no functioning businesses. Then again, it was Sunday, so maybe they were just closed. It did have Oregon Trail Park, though, with shade and water and a Little Blue Station marker and a couple of pit toilets that seemed as if they had not been used, well, since Oregon Trail days. But the men's side accepted deposits just the same.
This stretch of the Pony Express route, from Hebron up to the little town of Ayr (70 miles away) does not have anywhere to camp or stay. In my If-I-can-do-50-I-can-do-70 pre-trip planning days, it didn't seem like such a big deal. Given my 40-is-a-lot-more-doable reality on the road, I needed an alternative. So the night before I researched and found a website for the town of Edgar, NE, about five miles off the path. Edgar allows camping in their park, so I headed there for the night.
It was a lovely, downwind run to Edgar on a nicely paved road. Some guy passed me and flashed me the peace sign, then waited up ahead and flagged me down at the town cemetery. His name was Ike, kind of a scruffy guy in his fifties maybe, wiry, NASCAR t-shirt, all grins. He grabbed my hand (AGH! Covid!) in the 70s thumb-grab handshake and asked about my trip and said I could've stayed at his farm, maybe drink some bourbon . . . Very nice guy, but, I declined on grounds of not wanting to be a bother.
When I finally made Edgar, I asked at the local grocery store (the only place open on a Sunday afternoon) about camping in the park, got directions, and made my way there. Along the way I passed a couple playing Cornhole on their front yard, who both waved at me. That seemed so Midwestern somehow.
The park was disappointing. It has cool 1937 WPA monuments in each corner, but the river-rock WPA building itself looked about as disused as the pit toilets in Oak. There were four spaces for RVs at one end, and a lot of grass and a couple of lichen-covered picnic tables. But the electrical outlets were all locked, as were the water hydrants. Just as well: I found a notice warning against using the town water for infants due to high levels of nitrate.
Worst of all, there were no restrooms. Which is another thing. What is it with the Midwest and no public restrooms? I have yet to see a park that has any. I don't get it.
Well, clearly, Edgar's camping season hadn't opened yet, so I rode around town looking for the police station to make sure I wouldn't be violating any laws. No cops. I did find three wayward youths and asked them about a police station, and they said it was a couple of towns over. 
I went back to the park, spent thirty minutes on Google Maps trying to find another place I felt up to riding to, remembered Ike and his offer of a place to stay and bourbon (and was lucky he didn't give me his number because I might have called), and in the end came up with no good options. So it was time for a little pep talk. You're a bikepacker, I said to myself, you have everything you need to be comfortable here for the night. No water? There's enough left over from the day for everything you need. No electricity? Got the solar-charged battery. No bathroom? There are some convenient bushes across the street by the RV pump-out station. I started to relax and to accept that even if I lacked a few conveniences, I would be fine for the night.
Well, except for restroom options. On closer examination, I found the bushes untenable because the park was surrounded by houses on the other three sides. No way could I pee in the bushes unnoticed.
Okay, this is where people who don't want to read about bodily functions might want to step away. Here, I'll make a little border before and after this section.
==============
Wait, you know what? This is part of the story too. I'm sorry. It goes in.
I have a pee bottle. A specially colored (orange-yellow, appropriately) Nalgene bottle that I would never mistake for any of my drinking bottles. I have it because when I was thinking ahead about riding in the desert, I had a minor panic attack about stepping out of the tent one night and onto a snake. What are the chances? Who the hell knows? I thought of it, so it could happen, so I needed an alternative. A little research, and there you are. Pee bottle. Do it in the tent and just be careful. I could handle that in Edgar, NE.
===============
So in the end, there were no bars to sleeping here, just some inconveniences. If I wanted convenience, I should be on a completely different trip. Fine.
I rolled my bike next to a bench in the middle of the park and set up my tent remembering the phrase "open and notorious" from my first-year Property course in law school, making it as obvious as possible to god and everybody that I was camping in the park with no restrooms, water, or electricity. I figured if the cops didn't roust me by sundown, I'd move everything inside and take my chances.
No one ever came around, other than local teenagers. The town entertainment seemed to by driving various vehicles up and down the streets: OHVs, sit-on-top lawnmowers (big in Nebraska), dirt bikes. The three unlicensed miscreants I talked to drove around the park a few times on unlicensed vehicles. They waved every time.
After the sun went down, the town was blissfully quiet. By far the quietest campground yet. Except for the trains. Freight trains and their whistles woke me up all night long. I have no idea how anyone in town could sleep through them. At one point, I heard two, at different pitches, and sort of braced for a big crash. It didn't happen, but then I kept myself up for a while wondering if different trains had differently-pitched whistles and whether people could tell different trains from their sound. Such are the thoughts on a sleep-interrupted night.